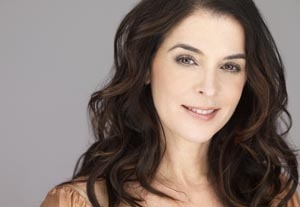 Annabella Sciorra, now making her Broadway debut in "The Motherf**ker With the Hat," has always had moxie. Consider how she landed her first major TV movie, when she had no credits other than a few Off-Off-Broadway plays and a promised role in an indie film, "True Love," once it found financing.
Having heard that Sophia Loren had bought the rights to Mario Puzo's novel "The Fortunate Pilgrim" and that it was going to be turned into an NBC miniseries, "I called NBC and said I'd like to audition for it," Sciorra recalls. "They laughed and said, 'You have to call casting.' I called casting, and they laughed and said, 'What have you done?' and I said I'd done a ton of theater and I wanted to play Octavia. They said, 'You have to have an agent submit you. Do you have an agent?' I said no. The only person I knew in the business was a casting director." This was the CD who had cast her in the pending indie. "So I went to his office and said, 'I need help. I need to be submitted for this thing and I don't have an agent.' He said he'd see what he could do, and he called a couple of agents and finally found one who said she'd do it. She had nothing to lose.
"NBC called me in and auditioned me," Sciorra continues matter-of-factly. "And I was nobody, but I didn't know I was nobody. I thought I was somebody. They called me back seven times, and each time there was a different executive there. And finally I was cast. I played Sophia Loren's daughter Octavia. John Turturro played my brother, and Edward James Olmos played our stepfather."
Sciorra has been working steadily ever since. She rolled up credits in such films as "Cadillac Man" and "Internal Affairs" before hitting it big with Spike Lee's "Jungle Fever." "That was a huge deal," she says. "Then I did 'The Hand That Rocks the Cradle,' and that was number one at the box office for four months." But the role that brought her into America's living room was Gloria Trillo, Tony Soprano's demented, stalking mistress on "The Sopranos."
Sciorra is speaking with Back Stage in her flower-filled dressing room before a matinee performance of "The Motherf**ker With the Hat," by Stephen Adly Guirgis, a five-hander that vividly and, at moments, comically depicts the gritty and self-destructive lives of semiliterate losers, who are struggling in various degrees with booze, drug, and sexual addictions. Rage control and loyalty are virtually unknown. Betrayal is the currency of all relationships. In addition to Sciorra, the play features Bobby Cannavale, Elizabeth Rodriguez, Yul Vázquez, and comic Chris Rock, making his Broadway debut.
Sciorra insists that the universe depicted in the play is not unfamiliar to her, despite the cocaine abuse and the characters' downtrodden street style. Lying and infidelity cross class and cultural lines, she maintains. "Stephen writes about people I grew up with, and that's one of the reasons I wanted to work with him," she says. "I was born in Brooklyn—Crown Heights—and lived in Marine Park and then Midwood. My father was a veterinarian, but he did not have a private practice. He worked for the USDA. We were very working-class."
Although Sciorra creates detailed backstories for all her characters, for this one, she says, "I feel like I don't have to do anything. You just breathe and say the words and stuff happens." The inevitable pressures that come with a Broadway debut are also not as intense as they might be, thanks to the comfort she has felt from the outset, boosted by the cast, all of whom are friends. "I felt very safe," she says. "And once we got into the Broadway theater, the set made us feel we were in a tiny apartment. You know when being on Broadway hits me? When I walk up the block and see the marquee."

Ask for Help
Early on, Sciorra dreamed of a performing career. In addition to forming an acting company with her friends, she studied ballet at American Ballet Theatre and tap with Henry Le Tang. She admits that she'd love to do a musical but hesitates to pursue it because she doesn't believe she has the necessary singing chops. Still, she got callbacks for the few musicals she auditioned for.
Generally, Sciorra does not find auditioning a major challenge. "I have the skill of walking into the room and knowing what they want to hear and see," she says. "I also feel that when you read material, you have to come in having tapped into that part of your personality that's similar to the character. You dress to suggest the character. In 'Cadillac Man,' I walked into the room with padded boobs and padded hips. I gave them the Brooklyn accent. I auditioned twice and was then flown to L.A. and screen-tested with Robin Williams, and I got the part. No one knew I was padded, not even the costume designer, until the wrap party. It was a funny wrap party because everyone was staring at my boobs."
Sciorra has studied with a number of acting teachers, though she cites the late Dennis Moore as her most significant mentor. She met him when she was still a teenager, while taking a summer class at the American Academy of Dramatic Arts in New York. His teachings were pivotal, she says. "I always knew I had access to my emotional life, but Dennis taught me how to make it happen every night." He was also instrumental in helping her find a speech teacher to eliminate her Brooklyn accent, which is nonexistent today.
Sciorra says she does not allow typecasting to get in her way. Before appearing on "The Sopranos," "I never would have been considered for a sexy role," she says. "Suddenly it was 'Oh, she's sexy; she can't play a housewife.' I feel no matter what you do, people are going to think that's who you are and that's what you do. But at a certain point, the casting directors know who you are." Sciorra also has little patience with the idea that "The Sopranos" encouraged stereotypic images of Italian Americans. "If you have the energy to complain," she says, "then have the energy to write your own script."
She says all actors should be proactive in their careers, making a list of everyone they know in the business—from writers and directors to fellow performers—and then unabashedly approaching them for help. But you shouldn't blind-side them, and the requests have to be specific. "If there is a particular writer you want to meet or director you want to work with, ask to be introduced," Sciorra suggests. "And don't be afraid to ask someone to help you get an agent or bring certain people to see you in a show."
Sound advice from an actor for whom it has surely worked.
"The Motherf**ker With the Hat" is playing through June 26 at the Gerald Schoenfeld Theatre, 236 W. 45th St., NYC. Tickets: (212) 239-6200, (800) 432-7250, or www.themfwiththehat.com.
Biobrief
– Earned an Emmy nomination for "The Sopranos"
–  Has appeared on stage in New York with the New Group, Naked Angels, and MCC Theater and at Massachusetts' Williamstown Theatre Festival
– Has had recurring roles in "The L Word," "Queens Supreme," "Law & Order: Criminal Intent," and "Mental"
Outtakes

– Got her first movie role, in "True Love," through a Back Stage casting notice; it went on to win the Grand Jury Prize at the Sundance Film Festival and earn Sciorra an Independent Spirit Award nomination