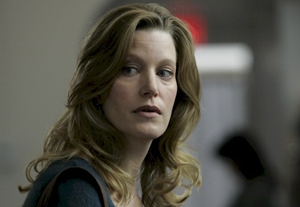 The criminal life has been very good to
Anna Gunn
. The actor had amassed an impressive résumé of stage and television work over the years, most notably on dramas like "Deadwood" and "The Practice." But Gunn landed her true breakout role on AMC's revolutionary drama
"Breaking Bad"
as Skyler White, the wife to high-school-teacher-turned-drug-kingpin Walter White, played by three-time Emmy winner Bryan Cranston. Though Skyler spent the first two seasons of the show unaware of her husband's secret life, recent episodes have seen her blossom into a savvy accomplice. With the fifth and final season premiering on July 15, Gunn spoke to Back Stage from the show's New Mexico set.
What, if anything, can you tell us about Season 5 of "Breaking Bad"?

Anna Gunn
: When I read the scripts, I never know what's coming. Then I read them and I know how the audience feels because I'm like: Just when I thought it couldn't get any darker, funnier, dirtier, badder, bigger, it does. I just can't believe that Vince and the writers keep topping themselves. So you can expect a season that doesn't ramp up gradually, it just goes for your jugular immediately. It's like an explosion from episode one. It will leave people breathless.
The show has some very passionate fans; how has that affected you?Gunn
: It's changed my life in a lot of ways. When I arrived for the premiere of Season 4, I realized that the fanbase and viewers had really jumped. We're all getting recognized a lot. And the great thing is, it can be a 17-year-old guy in front of you at the airport or an 80-year-old man behind you and both say, "Oh my God, 'Breaking Bad' is my favorite show!" It hits people on so many different levels. And people watch it for lots of different reasons.
Has it changed your life within the industry, as well?Gunn
: Absolutely. It's been a career changer, as well. Just as one example; I'm positive that had I not been on "Breaking Bad," Alan Alda wouldn't have offered me the part of Marie Curie in the play the wrote, "Radiance." Our director, Dan Sullivan, had worked with me and knew I could do it, but he and Alan were in New York and Alan couldn't come out to audition me. I'm pretty positive that had he not had the "Breaking Bad" stuff to watch I never would have been in a position to be considered for the role, number one, but actually get the role without having to read for it.
For the first two seasons, Skyler was in the dark about Walt's actions. What's it like to have your character in on everything now?Gunn
: It's so refreshing. It was difficult to play those first two seasons because they wrote her as such a smart woman. But the fact is, who in the world would guess what Walt is doing? So I think they wrote it perfectly, having her think that maybe he was having an affair or a mid-life crisis. And when she finally did stumble upon the truth, it was just earth shattering for her.
What's it been like to get to play Skyler now that she's in on Walt's dealings—and even taking control in many situations?Gunn
: It felt so good seeing Skyler go from a passive place to watching how this pragmatic, business mind of hers works. I think her mind is on par with Walt's mind in terms of how quick she is, how smart she is. And I think that's one of the major things that drew them together in the first place. So doing all those kind of things—planning to launder money, lying to the IRS—came rather naturally to her, and I think that's a little disturbing to her.
You've talked before about how your audition for the show was the scene where Skyler gives Walt a handjob.Gunn
: Yep. Bryan and Vince were so great on that day. They instantly provided such a great atmosphere.
Were you surprised that the screen test ended up on YouTube?Gunn
: Ah, yes. I mean, I gave my consent to it but I wasn't necessarily thinking about that. But you know what, whatever. It's good. If actors see that and they say, "Oh, that's what the audition looked like and then it led to this," then that's fine. I didn't know it was going to end up on YouTube, but live and learn. (Laughs)
Would you consider returning to television when "Breaking Bad" winds down?Gunn
: If there was another series that had a good character and some really good writing, I would love it. But I do film and theatre and TV, and whatever comes along that feels best is what I'll go for. It's nice, I've got some options.

"Breaking Bad" airs on Sunday 10/9c on AMC.