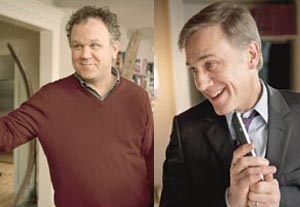 Roman Polanski's latest film, "
Carnage
," is an intimate affair. Based on Yasmina Reza's play "God of Carnage," it has only four characters and—aside from brief opening and closing shots—takes place entirely in and around one Brooklyn, N.Y., apartment. In transferring the story to the big screen, Polanski called upon an all-star team to bring the characters to life. John C. Reilly and Jodie Foster play Michael and Penelope Longstreet, a couple whose son has been involved in a fight with the son of Alan and Nancy Cowan, played by Christoph Waltz and Kate Winslet. Over the course of one afternoon, scotch is consumed, niceties are dropped, and several arguments break out. Reilly and Waltz spoke with Back Stage about making the film and their close-knit ensemble.
Back Stage: How were you first approached for these roles, and were you familiar with the play the script is based on, "God of Carnage"?John C. Reilly:
Yes, I was very familiar with it. They approached me a couple times about doing the play, first in London, then in New York. But I just—I couldn't. It didn't work out; I couldn't do it. Seems like it worked out pretty well for me—I got to do the movie. But yes, I'm a big fan of the play. I thought it was a great piece of writing. I just got a call out of the blue, literally having one of those actor's days where you go, "That's it; they've figured it out. That's all. Done now." Then the phone rings and someone says to me, "Would you like to come to Paris for eight weeks and work with Roman Polanski?" So I picked up the phone again, from the floor. My agent actually made me wait 24 hours to say yes. I was like, "Just say yes, just say yes!" She's like, "No, no, you have to act like you read the script and you've thought about it!"
Christoph Waltz:
Against the general belief in this country that Broadway was the original production, I actually saw the original production—it was in Switzerland, in Zurich. You have these experiences sitting in the theater and you think, "I'd like to play that part." And I envied the actor in the role. Then I heard Roman was in Switzerland, and I happened to be in Switzerland working. So I went to meet him. I had an hour and a half with him, and we cooked lunch.
Back Stage: Do you think the great chemistry among the four of you was a result of the rehearsal process or was it kind of instantaneous? Reilly:
Yeah, we really hit it off right away. I think Roman very carefully chose people not only for being right for the characters but being right for the project and the demands of the project. I think he deliberately picked people that would be able to do the work without a lot of divalike behavior, and I found the four of us a really supportive, loving quartet. And the chemistry, it happened pretty quick. I know when I was feeling, like, the first day in that room, I was like, "Jodie Foster, Kate Winslet, Christoph Waltz, Roman Polanski. What am I doing here?" Maybe that's low self-esteem—that honestly is what I was thinking. It took me, like, an hour to stop thinking that and concentrate on the work. I think on a certain level, all of us were feeling that, like, "Why did he pick me?" Maybe it was just me.
Waltz:
Yes, it was just you.
Back Stage: Can you tell us about working with your leading ladies?Reilly:
Jodie is a consummate professional. She is one of these people who has been doing it from a super young age and having an enormous amount of responsibility from a very young age. She's tough as nails. She knows how to get her job done, and she takes it very seriously and in a very practical way. Not to say she's not fun to be around. She's incredibly intelligent and engaging, very warm. Kate, I was just in awe of the whole time. Like, "Look at her jaw!" I've worked with a lot of famous people and stuff, but it's still a weird thing on that first day. "That's Kate Winslet! I'm four feet from her!" It's still a trippy thing.
Waltz:
But with Kate, she won't let you be starstruck.
Reilly:
Oh, she laid that to rest. She's so no bullshit, you know what I mean?
Waltz:
She's so smart. She used to tell me all of my continuities. She'd say, "Take the scarf off; put the napkin in your left hand."
Back Stage: John, what was it like being married to Jodie Foster?Reilly:
Well, for my character, it was a living hell. They need some therapy, I think. There's some squeaking a lot under the rug. I think come 4:45 every day, that scotch comes out and things get a little fuzzy for old Michael.
Waltz:
Kate said to me on the second day of rehearsal, "You know, we have a lot of sex." She said, "We still have sex; those two don't."
Reilly:
Well, we do, but we have the lights off, so it's anonymous and scotch-fueled.
Back Stage: The script was originally written in French and translated to English and set in New York. Did you help to Americanize the script?Reilly:
Yeah, Jodie and I kind of helped out as the resident Americans. But it was just word choices, you know, kind of small. "When you say this, do you mean this?" "Yeah, that's what I mean." "Well, if that's what you mean, then you have to invert these two words." We would just kind of give opinions, and Roman would decide if he wants to do it or not. It's like you could argue with Roman, but you're going to be wrong. Because he's right. He's been making movies for 60 years; I think he has a right to do what he wants at this point.