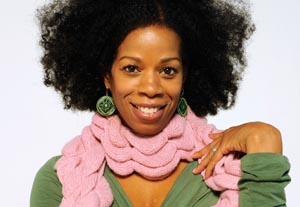 The name Kim Wayans usually conjures up over-the-top comedy antics on television and film. However, Wayans gives one of this year's most surprising dramatic performances in "
Pariah
" as Audrey, a religiously devout mother who grapples with her failing marriage and her 17-year-old daughter, Alike, who is struggling with her own sexuality. Wayans' emotional performance is heartbreaking yet authentic and has garnered critical praise.
Here are five things you didn't know about Kim Wayans:
1. Growing up, she had no idea other members of her family wanted to be in show business.
Wayans says she came out of the womb knowing she wanted to be an actor. Growing up in the projects in New York City, she searched for any small opportunity to perform—from living-room plays for her grandparents to fashion shows at a local community center. "I was like a desperado," she says. Wayans had no idea that anyone else in her family had similar ambitions: "I was totally in the dark for the longest time. I was the one who really expressed it and was vocal about it." When she found out brother Keenen was sneaking off to do standup comedy during his freshman year of college, she was shocked. Then Damon followed suit. "It was nothing we ever planned or ever really talked about," she recalls. "We grew up in a very funny household. There was a lot of comedy. We were always doing little sketches and coming up with characters, but I never really saw a big picture in it. It was just fun, something to do, something to pass the time away since we didn't really have too many toys to play with."
2. She has hilarious stories from her early acting years.
"Before I had formally studied acting, I just was clueless," says Wayans. "I was so not grounded in anything. I remember one audition I went on, it was for a secretary who was described as being flighty, so I created this whole character with a high-pitched voice, and I had a silly hat on with a bird sticking out of it. I walked into the room, and the casting director said, 'Stop. Before you even get started, put the prop bag down, take the silly hat off, and sit down; let me talk to you.' I think it was after that audition I went and signed up for some classes so I could get some parameters and really understand what the art of acting was. Bless her heart, whoever the casting director was. She really helped me. I started studying and came to a whole different understanding of what it really means to act.
"After I started studying, I had a recurring under-five role as Allison on [television series] 'A Different World'—that means you only get under five lines per week. I used to try to milk my lines. This one episode, I had only one line. A cute boy walks in the room, and Lisa Bonet and all the girls were like, 'He's cute,' and my line was 'He's fine. Oh, my God, he's fine.' So I stretched it out. I was like, 'Mmmm. Oooooh, he is fi-i-i-i-i-ine!' Well, [showrunner] Anne Beatts busted out in front of everybody, stepped up on the stage, and said, 'Allison, look, I know life as an under-five is tough, but stop milking your lines.' So embarrassing, but so funny.
"I think about these experiences, and I think about how I was—that freedom to not care, to make choices—that served me later on in my career. Like for 'In Living Color.' The ability to just go for it in wild and crazy ways wound up being a good quality to have. It's a good thing to have in your back pocket, but you need to know when to pull that out and when to reel it in and be serious."
3. She's had challenges getting casting people to see her for dramatic roles.
"The industry that we're in is very much about putting people in boxes, and I'm in the she's-a-wacky-comedian box," she says. When her manager sent her the script for "Pariah," she loved the writing and the powerful story. Thankfully, Dee Rees and Nekisa Cooper, the director and the producer, were open to seeing her audition. They loved what she brought to the room, saying she lent a vulnerability and a humanization to the role they hadn't seen from anyone else.
4. She's an actor-producer-writer-author.
Wayans worked as a producer, director, and writer on brother Damon's television series, "My Wife and Kids." She produced and wrote a well-received one-woman play called "A Handsome Woman Retreats." Currently she has a semiautobiographical sitcom script she's shopping around to networks about a large family growing up in the projects. Together with her husband, she has written a successful series of children's books called "Amy Hodgepodge," published by Penguin. She thinks it's important for actors to pursue more than just acting. "Most actors are creative people," she says. "Open up that creative energy to what the universe has for you. Give yourself permission. Make your goal that you want to express your creativity to its fullest potential and see what comes your way."
5. She's excited for the "In Living Color" reboot.
Wayans is thrilled Keenen is producing a reboot of "In Living Color" for this generation, and, although she won't be a regular, would love to do a guest appearance. "There's so much to laugh about and mock these days," she says. "I can't tell you how many thousands of times something has happened, either in the political arena or with one of these reality stars, and we wished 'In Living Color' was still around. The new cast will have that opportunity to poke fun at all the things that need some poking these days."