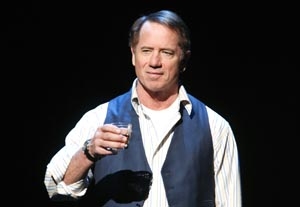 Tom Wopat admits that working for close to six years on the musical "Catch Me If You Can," from its workshop origins to a run in Seattle to its current Broadway berth, was both "productive" and "painful." One virtue of the process was that songwriters Marc Shaiman and Scott Wittman wrote music with him in mind. It's no fluke that throughout the show, he gets to display his obvious flair for jazzy swing tunes, evoking Dean Martin and Frank Sinatra. But Wopat, whose previous Broadway credits include "Annie Get Your Gun" and "Sondheim on Sondheim," also had to live with the inevitable cuts—including a song that he is convinced would have earned him a Tony Award.
"I regret the loss of that song on a daily basis," he says with a hint of self-mockery. "There are six or seven songs and a ton of scene work that is no longer in the production. The show had to be condensed. But there are echoes of those scenes and songs throughout. They inform everything we do."
Inspired by the Steven Spielberg biopic, "Catch Me If You Can" (with a book by Terrence McNally) recounts the extraordinary exploits of 21-year-old con artist Frank Abagnale Jr. (Aaron Tveit) and obsessive FBI agent Carl Hanratty (Norbert Leo Butz), who chases him across the country. Wopat, who plays Frank Abagnale Sr., says the acting challenges of the role are rugged. His character is a scammer—though his scams are small potatoes compared with those of his son—who ultimately disintegrates. Taking that journey eight performances a week is emotionally draining, Wopat says.
"I'm not a good enough actor to do that superficially, especially in the second act, when he goes downhill rapidly," the actor remarks. "That's hard. I need to go to deep and dark places, and it's painful. I don't do it off the cuff." A saving grace is that his character is largely a construct. In actuality, Abagnale Sr. was an ordinary man and not a wheeler-dealer at all. Wopat insists he has no interest in re-creating a nonfictional figure. It's all interpretation, he says, noting that his approach to this character—or to any role he plays—is to determine the character's function in the context of the story and then perform the part as realistically as possible.
"I'm not a Method actor," he says. "I'm an outside-in guy. After I decide what the character's function is, I learn the basic bones of the scenes and songs and then add personality. But the first thing I do, especially in a musical, is to know how I serve the other players. In this play, it is classic. I do setups for the kid and setups for the FBI guy. I'm an enabler and then recede in importance as my personality recedes.
"But in this case, real life can be extrapolated from the play," Wopat continues. "The kid takes over from the dad. And for me personally, I've been a leading man all my life and now I'm playing the dad. In the same way that the father in the play educates his son and then sits back and says, 'Look what he can do,' I'm handing this off to Aaron, the new leading man. The dad is interesting—he has the most dramatic arc in the play—but I'm not the main guy anymore. I don't know if I'll be a leading man again." That's an unexpectedly sober reflection from an otherwise down-home, hearty actor best known for playing a fun-loving hell-raiser on "The Dukes of Hazzard."
A 'Smart' Role
A native of Lodi, Wis., Wopat says his first ambition was to play football with the Green Bay Packers. At the same time, his teachers recognized his singing talent and took him under their wing. But it never occurred to him until college that he could make a living as a performer. After dropping out of the University of Wisconsin, where he majored in voice, Wopat performed at the Barn Theatre in Augusta, Mich., then headed to New York to try his luck. Within short order he was working Off-Broadway and regionally, and in less than a year he was starring on Broadway as James Naughton's replacement in the musical "I Love My Wife." His major break was his co-starring role on "The Dukes of Hazzard," a gig that lasted six years, from 1979 to 1985, and put him on America's radar, alongside co-star John Schneider.
Though he's good-humored and philosophical about it, Wopat says he may still suffer from typecasting. He suspects he would have had a more significant career on Broadway had he not done "Dukes" and has little doubt he's been passed over for serious TV fare because he continues to be perceived as a good ol' boy. "I should be on a show like 'Mad Men,' " he says, "but the guys in L.A. would probably never consider me for it, because they were kids when that orange car was racing around their TVs." Yet he refuses to worry about it. "Shoot, no; what good would that do?"
Still, if the right series came along, he'd be eager to come on board, especially one produced by HBO, where realism plays a part in the script, Wopat says: "I'm not talking about reality TV. Those are as far from reality as possible." Generally, "the balkanization of the channels has given great opportunities to writers, directors, and actors. I know John Slattery well," he says of the "Mad Men" actor, "and it's incredible to watch what has happened to him in the past five years."
Wopat points out that the surge in quality programming has been possible because creative teams can be "artistic and focused" instead of agonizing over attracting 75 million viewers. " 'Dukes of Hazzard' got 45 shares," he says. "Nobody dreams of that anymore."
The kind of TV roles that Wopat would most like to tackle include "a smart cop or a smart politician," he says. " 'Smart' is the operative word. I could play a small-town patriarch, but then he'd probably be flag-waving, and that doesn't appeal to me at all." He emphasizes that he's a dyed-in-the-wool liberal and only regrets that he isn't more of an activist, especially in his home state, where Gov. Scott Walker's positions are "heartbreaking," he says.
Wopat's dream musical role is Sweeney Todd, adding that there just aren't that many good parts in musicals for mature men. "I'd really like to do straight plays, do the big boys like Willy Loman," he says. "But I'm down the list when it comes to doing that stuff."
Wopat did, however, take on a dramatic role in the 2005 Broadway revival of David Mamet's "Glengarry Glen Ross"—playing James Lingk, a withdrawn and subservient salesman—and it was a major turning point for him. Not only was it an acting stretch, but it enabled him to be viewed in a whole new light, "far afield from a leading man in a musical," he says. "The play was especially interesting because it talks about guys in an age group who are a little more complex."
As much as he'd love to land that sharp series or dramatic play, if it doesn't happen, that's okay too, Wopat says. "I have a jazz recording career that goes on, and that keeps me sane." In his ideal future, "I'd do one Broadway show a year that had a three- or four-month limited run and 40–50 concerts."
"Catch Me If You Can" is playing at the Neil Simon Theatre, 250 W. 52nd St., NYC. Tickets: (877) 250-2929 or www.ticketmaster.com.   
OUTTAKES
–  Appeared as a replacement on Broadway in "42nd Street," "Chicago," "Guys and Dolls," and "City of Angels"
–  Received Tony and Drama Desk Award nominations for "A Catered Affair" and "Annie Get Your Gun" won a Drama Desk Award for "Glengarry Glen Ross" for outstanding ensemble
–  Has had recurring roles on "Cybill" and "A Peaceable Kingdom" and has guest-starred on "Medium," "Home Improvement," "Smallville," and "Murder, She Wrote."