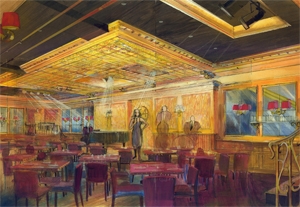 Many of the denizens who frequented the legendary
Studio 54
have undoubtedly moved on to the Great Disco in the sky. But the space below the druggy night spot of '70s fame, has been stunningly renovated and is breathing new life into the club scene.
Bringing to mind a richly appointed and intimate speakeasy-with dark railings, decorative cornice moldings, art deco inspired paintings, and vintage black and white photographs-54 Below is slated to bow June 3. Patti LuPone will inaugurate the 136-seat house with a two week run starting June 5. Other notables scheduled to perform include Victor Garber, Sherie Rene Scott, Megan Hilty, Brian d'Arcy James, Rebecca Luker, Justin Vivian Bond, and Jackie Hoffman.
"I call it 'cabaret for everyone' and I will try to bring to it an eclectic mix of people not unlike the performers we saw during the heyday of cabaret in the '70s," says Tony-winning lyricist
Scott Wittman
, who will serve as a kind of programming curator or "fairy godfather" as he prefers to be dubbed. Like the renowned club Reno Sweeney that might have played host to Peter Allen and Edie Beale in the same week, 54 Below will reflect both an uptown and downtown sensibility, insists Wittman, who is currently executive producer and song-writer of the TV show, "Smash."
Still, at its core 54 Below will be the Broadway performers' "sandbox," notes Wittman. It's located in the heart of the Broadway district and in the same building that houses the Roundabout Theatre Company's Studio 54 space. The theater has no connection with the cabaret.
A Broadway Esthetic
On the drawing boards for several years, 54 Below represents the collaborative efforts of Broadway producers
Tom Viertel
, Mark Routh, Richard Frankel, and Steven Baruch. Indeed, much of the creative team consists of Broadway veterans, including Tony winning set designer John Lee Beatty, Tony winning lighting designer Ken Billington, and Tony nominated sound designer Peter Hylenski. MAC winner Phil Geoffrey Bond, who previously programmed the Laurie Beechman Theatre, will be in charge of booking.
"This is going to be very much part of the Broadway scene because of location and because we're running it," remarks Viertel. "We've been part of Broadway for 20 years and we have long term and direct relationships with the talent-from the stars to the designers, all of whom have inspired our careers."
54 Below has hopefully created a unique niche with theater as the operative esthetic. Consider this: Beatty insisted he needed a narrative in order to create the environment and Viertel complied, suggesting a drama set during prohibition. His protagonist is a bootlegger who started out as a Lower East Side car-parts thief. But when he became too known in his own community, he decided to set up shop in a basement somewhere between Times Square and Columbus Circle. After all, many of his customers were located nearby, Viertel explains. To celebrate each sale, our hero darted off to a local speakeasy to retrieve booze, which he'd cart back to his subterranean operation, and wild parties ensued. Within short order, the alcohol fueled festivities were far more lucrative than fencing pillaged automobile booty and so our friend forged his own speakeasy and segued into bootlegging full time.
The setting is not a literal throwback to a speakeasy, but rather an evocation of the time and place with the hint of a secret that everyone is in on Viertel says. "But that doesn't meant there is anything campy about it," Wittman emphasizes.
So, who are the anticipated audiences? Clearly, they will vary from show to show assert Wittman and Viertel. Justin Vivian Bond and Jackie Hoffman will attract a different crowd from, say, Patti LuPone. Each will bring his or her own fan base in addition to Broadway groupies and tourists. After the curtain comes down on Broadway shows, theatergoers, casts and crews are expected to drop by to enjoy a drink and hang out in an inviting after-hours setting. 54 Below will be open daily from 6PM to 2AM with dinner served from 6 to 8t. Shows will usually run from 8 to 9, and on weekends, two shows may be presented.
Affordability is another defining element, assert Viertel and Wittman. The cover charge will vary with who is performing but will probably fall in the range of $25-$70; the drink minimum will also vary, though as an after hours hangout, there will be neither a cover charge nor drink minimum.
Viertel and Wittman are optimistic about the club's future with performers booked well into next year. Just how 54 Below evolves remains to be seen. What's constant, however, is the latitude performers will be afforded. "We have no agenda, except to create a wonderful space where we will be able to stir the creative juices," Viertel says.