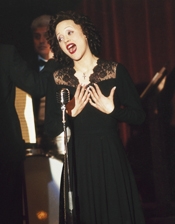 Back Stage and The Hollywood Reporter invite you to join actor Marion Cotillard for a screening of La Vie en Rose on Sunday, Oct. 21, in Los Angeles.
A biopic of legendary French chanteuse Edith Piaf (Cotillard), La Vie En Rose chronicles the singer's journey from poverty-stricken street performer to the nation's most iconic voice. Winner of the 2007 Hollywood Film Festival's Breakthrough Award for her performance, Cotillard (A Good Year, Big Fish) portrays Piaf's struggles and triumphs, as well as her friendships and romances with performers such as Charlie Chaplin, Yves Montand, and Marlene Deitrich.
The event will include a screening, followed by a Q&A with Cotillard. Sarah Kuhn, Back Stage West's film and TV writer, will moderate.
The event will be held Oct. 21, 8 p.m., at Harmony Gold Theatre, 7655 Sunset Blvd., Los Angeles.
Admission is free. To RSVP, call (310) 967-3461. Seating is limited. Please arrive early.
For more info on the film, visit www.edithpiafmovie.com.