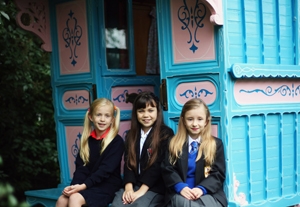 The Royal Shakespeare Company announced last week that its production of "Matilda the Musical," based on the book by Roald Dahl, will open on Broadway in 2013. The production is currently running in London's West End.
Equity principal auditions for adult roles will be held Friday, March 16 and Saturday, March 17 at Ripley-Grier Studios in New York City. Characters include Matilda's parents Mr. and Mrs. Wormwood, her older brother Michael, her kind and gentle teach Miss Honey, and Miss Trunchbull, the large and tyrannical female headmistress (to be played by a man). For more information and audition details,
view the full casting notice on BackStage.com
. (Subscription required.)
Jim Carnahan is the casting director for adult roles, and Nora Brennan is the casting director for children's role. Carnahan and Brennan will also both be casting the title role. Children's roles, including the title character, will be shared by multiple young actors performing in rotation. Separate auditions for children will be held at a later date.
Dahl's novel about a girl with extraordinary powers was published in 1988. Danny DeVito directed a 1996 film adaptation, starring Mara Wilson as Matilda.
The book for "Matilda the Musical" was written by British playwright Dennis Kelly, with music and lyrics by Australian comedian and musician Tim Minchin. The musical is directed by Tony Award winner Matthew Warchus ("Ghost the Musical," "God of Carnage," "The Norman Conquests") and choreographed by Peter Darling. A Broadway theater, performance dates, and other production information will be announced at a later date.