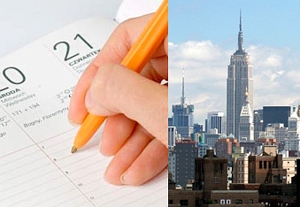 The following
"Auditions at a Glance" calendar
conveniently organizes projects by the date and day-of-the-week that the projects' auditions are taking place, to help you schedule your plans.
Click on any of the following links to see the casting and job notices related to the dates and project titles highlighted below.
Thu. July 19
• 'The Glass Menagerie'
Fri. July 20
• 'Channeling Kevin Spacey'
Sat. July 21
• 'Joe'
• Art Institute, 'Power of a Dollar'
• 'Cosi'
Sun. July 22
• Click here to search for auditions.
Mon. July 23
• NJ, 'Red', EPA
• 'Marry Me A Little'
• National Yiddish Theatre
• 'The Golden Land'
• Shepard & Jourdan's Search
Tue. July 24
• 'Perfect Crime'
• 'Murder Ballad'
• 'The Lion King', B'way, Dancers
• 'Mama Mia!', B'way, Singers
• 'White Christmas', CO
• 'Lend Me a Tenor'
• Chamber Theatre Productions
• NY, NV & Vancouver, Celebrity
Wed. July 25
• 'Mary Poppins', B'way, Singers
• Atlantic City Revel Casino
Thu. July 26
• 'A Raisin in the Sun', CT
• 'A Midsummer Night's Dream
• Disney Character Look-alike
Fri. July 27
• 'Sweeney Todd', OR
• Westchester Broadway Theatre

Related links:
Important audition search tips
The newest 200 notices on Back Stage

New York Tristate notices, sorted by Audition Date, with today's auditions listed first
California notices, sorted by Audition Date, with today's auditions listed first
All notices (across the U.S. and worldwide, including NY & CA), sorted by Audition Date, with today's auditions listed first