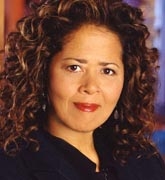 Actor-writer Anna Deavere Smith is a multiple OBIE and Drama Desk Award winner who may be best known for her multi-character, one-person shows, such as Fires in the Mirror: Crown Heights, Brooklyn and Other Identities, and Twilight: Los Angeles 1992. For the latter, she earned a Broadway transfer, a Theatre World Award, and two Tony nominations (best actress and best play). She also has had a recurring role on The West Wing and is featured in the current Anne Hathaway film Rachel Getting Married.
That is but a fraction of Smith's work, however. In addition to her plays, she has written two books (Letters to a Young Artist, and Talk to Me: Travels in Media and Politics). She also teaches at New York University and is concerned about arts and education. On Monday, Oct. 27, she will take part in a discussion, "Art and Educational Justice," as part of the closing night of the Harold Clurman Festival, presented by the Stella Adler Studio of Acting. Fellow panelists will include Whoopi Golderg, Rosie Perez, and Phylicia Rashad.
Deavere recently spoke with Back Stage about a range of issues; part one of the interview is below.
Back Stage: What does art and educational justice mean to you?
Anna Deavere Smith: I guess it could mean a whole lot of things. To me I see art as a possibility, inside of educational institutions, for creating more balance of ideas. I always think of justice as a balance. Artists could join in in new ways to try to get equity in education. Of course, in places where we have fewer resources, the first things to go are art and physical education. We need better arguments for working those parts of curricula back into schools.
Back Stage: It would seem to me, now would be a rather critical time, with the downturn in the economy, to shore up those arguments.
Anna Deavere Smith: Yeah, definitely.
Back Stage: Here in New York, it was reported that only 8 percent of elementary school students in the city are meeting the minimum state requirements for arts education. What does that say to you when you see that in public schools in New York City, which is supposed to be the artistic capital of the United States?
Anna Deavere Smith: I guess it just magnifies the inequities. Even in a place where we have more resources than any other city in the country, in terms of artistic resources, it's sort of disgraceful, I suppose. There have to be imaginative ways to take advantage of all the artists who are here, some of them unemployed, some who, particularly, will be less employed given the downturn. There's an opportunity for someone who wants to apply creativity to try to figure out a way to distribute more of these resources that are here. There have been things that have happened here that are models of it, and we just need more.
Back Stage: Are there any that stand out in your mind?
Anna Deavere Smith: I haven't taught in the public schools in a really, really long time. I can't be useful in talking about what does exist right now. But, I had an opportunity some years ago to work with the Lincoln Center Institute [for Arts in Education], which was a really great program. It had just top-of-the-line artists. It still exists, though I don't know if it's the same as it was when I was there. There were many things that made it successful, but one was [training]. It wasn't expected that artists come into a school and blindly fill up an hour. It was first teaching them about aesthetic education. At the spine of it was a very important philosopher named Maxine Greene who I assume is still involved with the institute. Her ideas gave a lot of integrity to the project.... The things that Dr. Greene shares about aesthetic education, there's nothing surface about it. There's nothing silly about it. She believes that what art helps us to do is to be more present, to be more attentive, to pay attention to the things that are around us. She's a philosopher also of education. She understands how schools work. That's what is so useful. She's not just an artist coming into their world trying to do something without taking into account how schools work. So much of what she was about was the health of schools, the overall health of education. I love that idea about paying attention. Not in an obedient way, but in how art helps us be more alive, more in touch, to be more present with things.
Back Stage: How did that experience inform you as an actor, as a writer?
Anna Deavere Smith: I don't know that it did. I don't think that it did, honestly. I think it just informed me as a citizen, and it helped me think about what [education] should be. I've taught in certain situations where it's not right, where the teacher just clicks the lights on and off and expects students to be quiet. And here you are doing your best trying to speak to the din of inattentiveness.
Back Stage: What was most effective in terms of reaching the students to make sure they were not only paying attention to what you were saying, but actually absorbing the artistic lesson?
Anna Deavere Smith: In my case I teach at university [NYU] in terms of teaching younger people, younger students, which is I gift I wouldn't say I necessarily in have. But in terms of teaching, it takes a lot of preparation, the more prepared you are the better... The teachers know their class, their students, they know what works. I had the chance to teach at Oprah Winfrey's school in South Africa ... and the sessions are about two hours long with 12 year old kids and I thought, that's impossible. We have 30 minute sessions in the States. The principal said, "They'll manage." It was extraordinary. Those kids were really attentive, for two hours. And these are kids with many fewer resources than most American kids. I wouldn't say across the board ... It was extraordinary to me that they could be involved and engaged for that length of time. So I think we even have a lot to learn from other cultures, even cultures that we think have fewer advantages than we do.
The Harold Clurman Festival, presented by the Stella Adler Studio of Acting, will conclude Monday, Sept. 27, with a discussion, "Art and Educational Justice," 7 p.m., Cooper Union Great Hall, 7 East Seventh St., Manhattan. Panelists include Whoopi Goldberg, Rosie Perez, Phylicia Rashad, and Anna Deavere Smith. Admission: $25 at the door. (Subway: 6-Astor Place; R/W-8th Street/NYU) For more details, call (212) 689-0087.
Part 2 of Back Stage's interview with Anna Deavere Smith will be posted in the coming weeks.