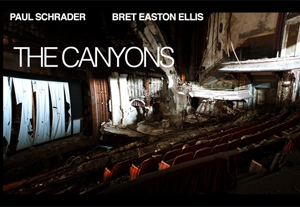 Casting has just begun for "The Canyons," a new film written by Bret Easton Ellis ("American Psycho") and directed by "Taxi Driver" and "Raging Bull" writer Paul Schrader. The film is described as a contemporary psycho-sexual thriller about a small group of Los Angeles twenty-somethings and their quest for power, love, sex, and success in Hollywood. "The Canyons" will be self-financed and is intended for release on VOD or Netflix.
The five available lead roles include Christian, a trust fund kid who lives on the beach and dabbles in film producing, but mostly enjoys filming his own three-way sex sessions; Tara, his girlfriend and a former model; Ryan, an aspiring young actor who lands a role in Christian's horror movie but is secretly in love with Tara; Gina, who is deeply in love with Ryan and who pressures Christian to cast Ryan in his film; and Lindsay, a former actress turned yoga instructor who is sleeping with Christian, and falling in love with him. Sex and nudity should be expected for all roles.
The producers are currently seeking online video auditions from both union and nonunion actors worldwide. The deadline for submissions is July 2. For more information and details about how to apply,
view the full casting notice on BackStage.com
. (Subscription required.)
In January, Ellis seemed ready to cast porn star James Deen in the film
when he tweeted
, "James Deen is my first choice to play Christian or Ryan in LA noir micro budget Paul Schrader movie I'm writing. Nudity and acting a must[.]" But any young male actors willing to get naked and perform sex scenes with both men and women will likely be considered.
The
Playlist reported
, "Casting is still very early and Deen has yet to meet with Schrader to talk about the film. Despite the seemingly pulp nature of the material, we're told it's very much an actor's piece and the filmmakers are looking for actors who can deliver."
Earlier this week, Ellis tweeted that the film will begin shooting on July 9 in Los Angeles. He also
tweeted the following message
on Tuesday: "ACTORS: open casting call for THE CANYONS… But only for those who can deal with it."