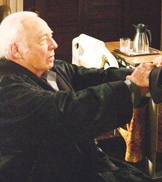 Despite today's ever-changing climate of entertainment possibilities that include digital filmmaking, cable television, podcasts, and prime-time series that often drop off the airwaves after a few episodes, there still survives a decades-old media chestnut known as the daytime soap opera.
Several years prior to becoming a talent agent, I worked regularly as an actor on soap operas. Before I outline a strategy that has proven successful for obtaining work in this area of the industry, let's take a closer look at soaps, their potential for employment, and the options the work can provide.
For reasons that range from increased competition on the air to the fact that fewer women than ever are home watching television during the day, soap operas have diminished in number. In New York, only four remain: Guiding Light (1952), As the World Turns (1956), One Life to Live (1968), and All My Children (1970). In L.A. it's the same number: Only Days of Our Lives (1965), The Young and the Restless (1973), The Bold and the Beautiful (1987), and Passions (1999) remain.
Each week, soap sets regularly depict restaurants, courtrooms, bars, police stations, and the great staple of daytime dramatic scenarios, the local hospital. Each of these settings is populated with actors in speaking and nonspeaking roles, all of whom are earning no less than American Federation of Television and Radio Artists scale pay, whether they are members of the union or not.
I expect some readers to be shaking their heads and saying, "But I'm not a soap type." I'm not talking about contract roles, though; I'm talking about the day-player roles and the smaller speaking roles (called under-fives, as such roles generally consist of fewer than five lines) as well as background work. Tune in to a few episodes of any soap, and you will see that most of these minor parts have been filled with actors who may be attractive but not possess the same degree of pulchritude as many of the contract players.
One Life to Join
What are some advantages of seeking work on soaps? It's a matter of access. For example, when we see an actor who has a small part of, say, four lines on a prime-time television show, we can be sure that in almost every case an agent or manager had to obtain an audition for the actor to be considered for said role. Conversely, an actor who has four lines on an episode of a daytime soap probably got the role unassisted by a representative.
That can happen for several reasons, but the most important factor is this: The person who casts the background players and the person who casts the under-fives are often the same individual. Although representation is not required for background work in daytime or prime-time television, the person who casts the background players in daytime television often uses the same pool of actors to cast the under-fives.
This is not the case in prime-time television, where most shows are under the jurisdiction of the Screen Actors Guild. In such cases, the person who casts background players and the person who casts speaking parts of any size are rarely the same person. For a non-SAG actor who works as a background performer on a prime-time set, there is little opportunity for an upgrade to a speaking role. On soap sets covered by AFTRA, upgrades are given without respect to union membership.
However, if an actor has worked on a daytime soap and, after 30 days, is asked to work again, he or she will have to become a member of AFTRA. Once an actor has been a member of AFTRA for one year and has had an under-five, he or she is eligible to become a member of SAG and Actors' Equity Association if the actor so chooses. Also, if an actor has been a member of AFTRA for one year and has worked only three times as an extra, he or she is eligible to join Equity. Such actors shouldn't necessarily run out and join the other unions just because they are able to do so, though there are circumstances in which this is a fortunate and desirable option.
There is yet another advantage to working in daytime television. Non-AFTRA actors working as background performers on a soap opera receive the same pay as AFTRA members working as background performers. That's not so in SAG's jurisdiction, where there is a distinct difference in pay between the SAG extra and the non-SAG extra. Earlier I mentioned that when an actor continues to work under AFTRA's jurisdiction, membership in that union is required. This is not the case with SAG: A background performer can work repeatedly without being offered union membership. The exception is "vouchered" background work, in which, under special circumstances, the non-SAG extra is given work at full SAG rates. After three such jobs, which are generally not easy to obtain, the actor is able to join the union.
As the Doorknob Turns
So how does one get work on soaps? If your training is solid and you are ready to audition professionally — at the initial interview some soaps ask for a monologue or have the actor read a scene — pick up a copy of Ross Reports. You will see the addresses for each soap's casting office, as well as the names of the casting personnel. I recommend targeting the associate or assistant casting director who will be in charge of casting background and under-five roles.
Type a brief cover letter consisting of three or four sentences that mention your training and a few of your best credits to date. If your credits are modest, that's okay. End your letter by saying you would like to work for them and would appreciate the opportunity to have an interview. After the initial photo-résumé and cover letter have been sent, be prepared to follow up by mail. Every three weeks, send your photo post card to the same individual, recounting any progress that has taken place in your career.
For example, you might mention the following:
• Any acting job you got, paying or nonpaying.
• Any acting job you almost got — that is, callbacks you've had. This is especially valuable if the writer or director of the project you were called back for is well-known. In one recent case, an actor got called in to read for a contract role because she reported final callbacks with a world-renowned playwright. The casting director told her it was that very piece of information that led to her being called in. She got the contract.
• Meetings with agents or managers that hold promise of possible representation.
If progress is slow, you can do a recap of past information that may have been forgotten by the casting director: "Since receiving my BFA in theatre from Ohio State University in 2005, I have appeared in four independent shorts and three plays in New York, most recently performing at Allied Arts Theater. I would appreciate the opportunity to meet you at your earliest convenience." Or, "I am currently freelancing for commercials with Adams Artists and would love to work in soaps. I would appreciate the opportunity to meet with you."
And send a flier for anything you may be appearing in that is of high quality. Follow up only by mail, and stay the course. In my work as writer, lecturer, and business coach, I reach thousands of actors each year, and I hear success stories from actors every month regarding the strategy above. As with anything worthwhile, it can take time and patience, but the results can be extremely gratifying.
Brian O'Neil is a talent consultant and career coach in New York. A former agent, he is the author of Acting as a Business: Strategies for Success. For more information, visit www.actingasabusiness.com.