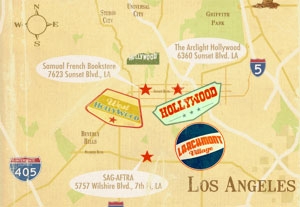 Samuel French
7623 W. Sunset Blvd., L.A.
www.samuelfrench.com
Sam French is Ellis Island for aspiring actors and writers arriving in L.A. The bookstore sells pretty much every book ever on acting, writing for stage and screen, and filmmaking -- and novelty mugs and totes!

Central Casting
220 S. Flower St., Burbank
www.centralcasting.com
You have to show up in person to register, so download the forms from the website and fill them out before you go. Remember: Extra work is work.
ArcLight Hollywood
6360 W. Sunset Blvd., L.A.
www.arclightcinemas.com
Question: "Did you see 'Film X'?" Correct answer: "Yes -- at the ArcLight." The most lively crowds of any movie theater in L.A. It's popular for a reason.

Theater Row
Santa Monica Boulevard between La Brea Avenue and Gower Street, L.A.
www.theaterrowhollywood.com
A bunch of theaters ... in a row! Pretty much the only place in L.A. where you can do all this -- nail an audition, attend a workshop, get dinner, see a play -- without moving your car.

SAG-AFTRA
5757 Wilshire Blvd., 7th floor, L.A.
www.sagaftra.org
www.sagfoundation.org
SAG-AFTRA offers union members lots of resources through the SAG Foundation, including screenings, workshops, and a library.