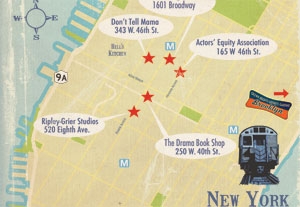 Ripley-Grier Studios
131 W. 72nd St.; 520 Eighth Ave., 16th fl.; and 939 Eighth Ave., Ste. 307
www.ripleygrier.com
Given Ripley-Grier's three locations and 54 studios used for auditions, rehearsals, classes, and more, odds are you'll end up there at least once a week.
Don't Tell Mama
343 W. 46th St.
www.donttellmamanyc.com
An entertainment landmark, this cabaret offers dinner and drinks while Broadway stars, up-and-comers, and even the waiters take turns onstage.
New York Sports Clubs
Various locations
www.mysportsclubs.com
With more than a dozen midtown locations, New York Sports Clubs offers members plenty of convenient and affordable ways to stay in shape. For actors on tour, membership allows use at the gym's affiliates in New Jersey, Connecticut, Boston, Philadelphia, and D.C.

Actors' Equity Association
165 W. 46th St.
www.actorsequity.com
The AEA offices, audition center, and Actors Federal Credit Union share a building centrally located near Times Square and almost every subway line. Whether attending an open call or just hanging out in the lounge, Equity members can make themselves at home.
The Drama Book Shop
250 W. 40th St.
www.dramabookshop.com
In business for 95 years, this is the essential resource for New York's theater community, with 8,000 plays in stock, monthly events with authors and directors, and a 60-seat black-box theater.