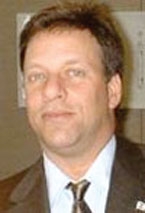 Growing up in Queens, N.Y., Danny Sussman didn't have a particular interest in the entertainment industry. Like any kid, he enjoyed film and theatre as a consumer and audience member. But he couldn't have predicted he'd someday be a behind-the-scenes player in Hollywood. His passions were baseball-specifically the Mets-and politics.
Now a talent manager for Brillstein-Grey Management in Los Angeles, Sussman recalls reading Exodus, Leon Uris' novel about the founding of Israel, for the first time at age 12; he read it "for the 50th time last week," he adds. At 17 he lived for a time on a kibbutz in Israel, where his interest in and passion for that nation deepened.
At Ithaca College, Sussman majored in history and journalism. By the mid-1980s he had landed a job at the financial wire services division of Shearson Lehman Bros., writing about such complex subjects as oil production and defense. Then, while on a spring 1988 vacation to California, he heard about a news-writing job for a film company, Carolco Pictures. The job involved writing not about the creative side of the business but about financial matters. It was work he would be more than capable of doing. A couple of months later, the young man went West.
Putting On Speed
The Left Coast was not, at first, to Sussman's taste. "Hated it," he says. "Hated L.A. Didn't know what I was doing there." It was partly the nature of the job that proved unsatisfactory. But when he waxed enthusiastic one day to producer Cathleen Summers about a promising sci-fi script he'd read, she suggested he think about becoming a talent agent. The script, by the way, was a little project by the name of Total Recall.
Sussman soon became a member of the training program at the William Morris Agency. He immediately fell in love with the pace and energy of that environment. He recalls his first meeting with agent Cary Woods. The agent was so busy answering phones and otherwise attending to business that he wasn't able to speak a word to Sussman for a good 45 minutes. It was just the sort of fast-paced, high-octane workplace Sussman was looking for.
This is not to say his WMA apprenticeship wasn't something of a step down from his journalistic work, at least in terms of prestige and power. "A step down?" he says. "It was a step into the toilet!" Not long before, he'd been writing about OPEC and high-profile litigation. Now he was delivering mail to talent agents. Yet no boring or seemingly inconsequential task was beneath him. "If they asked for someone to fucking drive to Glendale to pick up an envelope, I volunteered," he remembers. Sussman was one of two trainees out of 32 who survived the training program. His background as a reporter served him well, he says, when he was asked to provide script coverage for his bosses; he was able to read and analyze large numbers of screenplays in a short time.
An early assignment at WMA involved assisting television agent Gary Rado. Sussman and Rado were polar opposites in terms of temperament: Sussman saw himself as a people person and a political animal; Rado was a detail man, an expert at finessing contracts. Yet Sussman notes that he gained a wealth of knowledge from the other man about the art of deal making.
Before long, the novice agent had attained name-on-the-door status at WMA. He found a niche in the burgeoning independent film movement. Lili Taylor, who'd made an impact in Dogfight with River Phoenix, was one of his first major clients. Others joining his talent roster included Steve Buscemi, Scott Glenn, and Chloë Sevigny. Sussman regularly attended Sundance, Telluride, and other film festivals-"That's definitely a younger man's game...'cause you've got to be everywhere," he says-and headed back to the East Coast periodically to smoke cigarettes and talk with Off-Off-Broadway actors; he believes his New York roots helped give him some indie cred. Soon he was putting together talent packages for such projects as The Imposters, Big Night, and Trees Lounge. Moving to Management
Sussman stayed at WMA for eight and a half years. He is satisfied that he was able to help some of his clients move on to bigger, more-prestigious gigs. But ultimately he became convinced that the mega-agency was not a place where indie-minded actors could best flourish. In 1998 he joined Brillstein-Grey, crossing over from agenting to talent management.
Initially the transition was somewhat tricky; sometimes he felt he was starting back at square one. As an agent, he had developed solid relationships with managers. Now, as a manager, he had to reverse course and befriend agents who had formerly been rivals. He spent considerable time and energy forging these new alliances but concedes, "You're not going to have relationships with agents at every single agency." At Brillstein-Grey, he has worked primarily with television actors. He enjoys TV work in part because it happens so quickly, especially compared to film. "TV has a start date, and it goes," he says. His clients include such television names as Jimmy Smits, Noah Wyle, John Stamos, Steven Weber, Heather Locklear, and Jeffrey Tambor. Most of his clients are involved in film and stage work as well as television, Sussman notes.
Formidable challenges exist for actors these days, he contends. "There's less money out there," he says bluntly. And less work, too. The pay scale for TV performers has changed of late, he explains, and yearly pay increases for an actor on a successful network series have grown smaller. He also frets that actors aren't getting their share of revenue from projects generated by some of the newer media technologies.
Another change he notes is the disappearance of independent TV production studios. Nowadays, he says, the networks have their own associated studios; CBS is linked with Paramount, for instance, and NBC with Universal. He cites Warner Bros. as the last of the large unaligned production companies. This all, of course, has a connection to the way actors get jobs.
One of Sussman's pet peeves has to do with poorly informed celebrities who speak out about politics, whether from the right or the left. Some politically outspoken stars, he notes, don't even boast high school diplomas. "It makes people look silly," he says. "I think politics are personal. I don't know if people who are speaking up have the pedigree to talk about, say, the situation in the Middle East." He appreciates actors who contribute to charitable causes. But he believes that some of this misguided activism hurts the image of the entertainment industry.
Nonetheless, Sussman remains passionate about politics, especially when it involves Israel, which he visits regularly. He serves as co-chair of the entertainment division of the United Jewish Federation in Los Angeles. He is also one of the founding members of Voices for Israel, an L.A.-based think tank. Reaching Higher
One element that is important in television work, Sussman says, is the ability to spot and track trends. But as far as his own future is concerned, he foresees no drastic career shifts. He plans to continue with the stewardship of actors' careers. He especially enjoys helping performers who hope to expand into other areas of the industry, such as writing and directing.
He recently found a new career sideline: higher education. He regularly teaches a course at UCLA in which he talks about trends in the industry and invites other insiders to come and offer their insights. He's also contributed to a master class workshops program in screenwriting and production in Tel Aviv. And in late 2007 he'll share tips with film students in China and Korea: "I'll tell them what I know," he says, adding with what is clearly mock self-deprecation, "It ain't much, but it's all I've got."