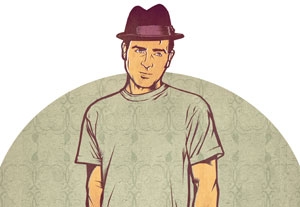 What to complain about ... constantly:
Everything.

How to refer to the ambient temperature:
Anything over 85 is "so hot." Anything under 70, especially if it's even the slightest bit windy, is "freezing." Not wearing a sweater when it's in the 60s? You might as well be wearing a sandwich board advertising Iowa tourism.

How to drive:
I know that where you come from, people know how to drive in the rain. Here, a safe reduction in speed coupled with an appropriate increase in following distance due to the reduced friction between tires and road is for losers. You're in L.A., now, and you have places to be and people to tailgate, weather be damned! Just know that there is also a contingent of Angelenos who think the proper reaction to rain is to go 30 mph on the expressway, so make sure you do lots of weaving between lanes in a fruitless attempt to avoid these people.
Oh, and car time is cell phone time. Hands-free devices? No thanks, Mom.

Where to park:
Missing Persons was serious. Nobody walks here. Here we do our walking in air-conditioned malls, or on treadmills. If you're going driving someplace, I know you'll be tempted to park in one of the many spaces available a mere three blocks from your destination. Notice, though, how all those cars around your potential space have out-of-state plates? Yeah. Here we park within 50 feet of the door, or we valet. If you do have to park in a parking garage, make sure you take up two spaces to show everyone how important you are.

Restaurants to avoid:
Any restaurant owned by a celebrity. Only tourists say things like "Hey, we should check out that burger place owned by Eva Longoria!" Any place where a plate of Mexican food costs more than $10. El Coyote on Beverly, especially.
Restaurants to frequent:
In-N-Out Burger. I know it's sad, but this is what we health-conscious Angelenos eat when we're cheating on our fad diets. No wonder Southerners look upon us with disdain. A Double Double Animal Style is their equivalent of kale. Here, we just don't know how to indulge, calorie-wise. But go here you must, and sing its praises you must. It helps if you buy a T-shirt.
"Restaurants" to frequent:
I know that taco stand with the white plastic chairs in that vacant lot might look off-putting to a newcomer, but trust me, you want what that grandmother is making.
What sports teams to root for:
The Lakers, USC ... and those other teams too. Buy a flag for your car.
Waiting in line:
If you're anywhere in L.A. and you see a line, it will be 90 percent tourists and recent transplants (including students). The 10 percent who look like they just ate something off the floor of a gas station restroom are the locals who are there because they love their tourist family members, who suggested they go to this place they read about on TMZ. Locals know that no place in L.A. is worth waiting in line for.

How to dress:
If you want compliments, drive to San Francisco, see what people there are wearing, then wear that in three years. If you don't want to modify your homegrown style too much, just move to Silver Lake, where it will be mistaken for ironic uncoolness, which is cool.

When to wear sunglasses:
Robert Evans excepted, people here don't wear sunglasses at night. That's more of a Miami thing, papi.
Sources of authority:
If you want to get people in L.A. to accept what you say unquestioningly, tell them that you heard it from your yogi. No opinion carries more weight here than that of a guy who has spent his life trying to touch his face to his ass.
Encountering celebrities:
Leave them alone. Always. If you find yourself sitting next to Tom Hanks in the Brentwood Coffee Bean, do not tell him you're an actor and ask him for advice. Allow him to drink his unicorn juice from his diamond goblet in peace.