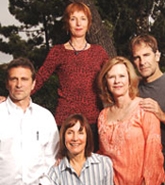 Jane Anderson plunges her hands deep into some of human life's great mysteries and brings out a bouquet of thoughtfulness, sadness, joy, appreciation, mourning, humor, repression--in essence the colors of humanity--in The Quality of Life, commissioned by Los Angeles' Geffen Playhouse. What is life worth to each of us? At what cost? According to whom?
The many issues audiences will be prompted to ponder by this emotionally and intellectually stirring work will provoke thoughts long after the evening's outing. But of course before the run (Oct. 10-Nov. 18), the play's quartet of actors must discover and develop each element in that bouquet--as they admit, leaving their favorite crutches behind, learning where the trapdoors are, tussling with facets of their characters that go against personal beliefs.
Anderson is the writer-director of the TV movie Normal (for which she earned an Emmy nomination and a Directors Guild of America Award nomination), based on her play Looking for Normal. She is the screenwriter of How to Make an American Quilt and won an Emmy for writing The Positively True Adventures of the Alleged Texas Cheerleader-Murdering Mom (1993).
In Anderson's The Quality of Life, Dennis Boutsikaris plays Neil, a Berkeley professor, and Laurie Metcalf plays Neil's wife, Jeannette. Both characters are described as living amid the "earthy, intellectual culture of post-hippie Northern California." Jeannette is "a rebellious, energetic soul" Neil is "fueled by a left-brain intellect and a well-honed sense of irony." Scott Bakula plays Bill, described by the playwright as "a stoic, farm-bred man" living in the Midwest, a devout Christian. JoBeth Williams plays his wife, Dinah, a salt-of-the-earth, kindhearted, open-minded mother--and Jeannette's cousin.
Boutsikaris became the first American actor to play Mozart in Amadeus on Broadway, in 1982, and has toured the country with John Houseman's The Acting Company, doing classical theatre. Boutsikaris earned an Obie Award and a Drama Desk nomination for Sight Unseen (1992) at the Manhattan Theatre Club, and he has won two Audie Awards for his work in narrating more than 50 audio books. His screen credits number more than 70, including appearances as Al Archer on Law & Order.
In 1976, Bakula moved from the Midwest to New York on a Wednesday, picked up his copy of Back Stage that evening, saw a casting notice for Shenandoah, and on Friday went in and was cast as Sam, his first professional gig. Twelve years later came his Tony nomination: best actor in a musical, for Romance/Romance. He is beloved of small-screen fans for his work as Dr. Sam Beckett on Quantum Leap--earning four consecutive Emmy noms and a Golden Globe--and as Captain Jonathan Archer on Enterprise.
Metcalf is a founding ensemble member of Chicago's Steppenwolf Theatre Company. She won the 1984 best actress Obie for Steppenwolf's Balm in Gilead. In Los Angeles she won the 2001 Ovation Award for lead actress for Anderson's Looking for Normal and the 2006 Ovation for All My Sons (both at the Geffen). She won three consecutive supporting actress Emmy Awards for her work on Roseanne and earned a 2007 Emmy nomination for Desperate Housewives.
Williams first studied to become a child psychologist, later training at Rhode Island's Trinity Repertory Company, where she subsequently worked for two and a half years. Her New York credits include Moonchildren, Ladyhouse Blues, and A Coupla White Chicks Sitting Around Talking. She has more than 80 screen credits, including the films Poltergeist, Kramer vs. Kramer, and Wyatt Earp. She was thrice Emmy nominated, in particular as lead actress for Baby M, which also earned her a Golden Globe nomination.
Before rehearsal in late September, the five spoke with Back Stage at the Geffen.
Back Stage: [To Anderson] You wrote this as a Geffen Playhouse commission. Did you have specific actors in mind as you wrote?
Jane Anderson: I try not to do that. I want to write for character, for place, for time, and for scene. And then we start casting. I did a lot of rewriting during rehearsal. So once we're cast and going at it, I like to hear the words in the actors' mouths. Good writing, it's like being a seamstress: You make a fabulous piece of couture clothing, but then you have a body to fit it on, and that's when you start taking the seams in and raising the hem. And that's what I do once the actors are here, because they bring their own fabulous rhythms to it and their marvelous opinions. [Actors laugh.] The reason I cast these guys is because they're not only incredibly gifted but very experienced and very smart, and they aren't going to sit there idolizing me as the writer-director. I like to work with actors who are going to challenge what I've written. That's how you develop a play into a good piece of theatre.
Laurie Metcalf: And to Jane's credit, she has welcomed those kinds of opinions.
JoBeth Williams: Well, she's had a lot of input--
Metcalf: She has. But not only has she written the piece but she's directing it. She's had unique obstacles in directing this play, because she is ahead of us, as far as having written the show and waiting for us to discover what the play is about, and it being a world premiere--first time ever on its feet. And all of us not knowing what the flow of it is, at times.
Scott Bakula: It's also personal [for Jane, reflecting a recent house fire before the play's action]. That's the other thing we also kind of forget. It didn't just come out of....
Williams: And Jane is unusually compassionate, in terms of dealing with actors. You don't often run across directors who are as willing to listen as she has been. But she also, in her own quiet way, is very strong. She guides us. Sometimes we don't even realize we're being guided.
Back Stage: How did you get these actors involved? Laurie has worked with you before.
Anderson: I know Scott personally. Our kids go to school together, and he coached my son [in Little League and soccer], and he's a lovely coach. Laurie obviously was the first hire, because we worked together in Looking for Normal and I envisioned her as Jeanette. Each of these actors brings a unique quality to the characters. JoBeth has a compassionate, dear, rich, profound empathy. And because she's playing this Midwestern lady, I knew she could handle the humor and give a little bite to it. But also she can play Midwest. You cast people you feel could drop into the role easily and then add something extra. Dennis is playing a man who is very, very intelligent —
The actors, in unison: So it's a stretch.
Anderson: — a man who's very curious. He's a professor, he works from his head, but he also works from his heart. And Dennis has a verbal flexibility. He can handle these incredible speeches. And Scott‌.
Bakula: I was the soccer coach. If you want your kid to play more, I want a play.
Anderson: Scott is playing a man who has turned to extreme fundamental Christianity. I wanted to cast against that. I wanted to cast an actor who would come across as incredibly sympathetic. [Bakula opens a script and pretends to take notes.]
Metcalf: Everything she says, we tend to grab on to, like, "I don't think I'm doing that yet. I've got to throw that color in there."
Dennis Boutsikaris: [To Bakula] C-H-R-I‌.
Anderson: And I think I should stop doing it now, because we're now in that delicate part of rehearsal where they shouldn't know what I'm thinking anymore. I always believe that on the first day of rehearsal the playwright knows the most. And then the director starts to catch on. But by now the actors know more about the characters than the director or the playwright, because you're living them. This is the part of rehearsal I love the most, because now I get to sit back and watch your discoveries.
Back Stage: [To the actors] What are your more recent discoveries?
Boutsikaris: Laurie and I are constantly working on our relationship. It's the unspoken glue throughout the play. We always are saying, "Did we connect with each other or not?" We try to find places to connect that aren't actually written in the script, that [Jane] forgot to write. I'm joking.
Bakula: It's a play for more words. He constantly wants to say more.
Boutsikaris: No, but that's what we're working on.
Williams: Scott and I try to not actually talk to each other and ever work on our relationship. Well, it's difficult, because we're apart in the play. But we get along very well.
Back Stage: But playing once together and now apart, you must be working on that once-together time.
Williams: Absolutely. And Jane has been very conscious of having to explore the moments where we are together, and where we are reminded of what we had together. And we find new things every day. We find humor. We find silliness that I didn't know was there. And because there's so much pain, ways to rise above the pain--how these people rise above and keep on going. That's the essence of the play.
Bakula: The great joy of the process is that it's an original piece. Yesterday we were talking about cutting scenes. And if you're not doing something original, you don't experience that. And finding stuff that works and stuff that doesn't work. And creating a role and creating relationships is the ultimate, as great as it is to do classics--nobody ever asks me to do them, but as great as I imagine them to be. But there's nothing like coming up and spending the rehearsal time finding stuff for the first time. And nobody's in the room, saying, "But when we were in Florida, we did it this way." That will happen after this production, because the next people to do the show--if it's not us [silently sobs]--they'll hear about what we did. And this is just the only time that this moment ever exists. And that's the best part of it, for me, for us, creatively speaking.
Back Stage: You mentioned not yet knowing the flow of this world premiere. What are you expecting from the audience reaction? Are you steeling yourselves against the sniffles you're going to hear; are you going to avoid listening to the audience?
Metcalf: I'm thinking that the most exciting performances we're going to have are in these very first preview audiences. We don't know what we have yet. We never do, even in a tried-and-true play. A missing piece of the puzzle now is the audience participation, and that will teach us a lot about the play and will find its final shape. And we will never be able to get back to that stage again.
Williams: That virginity.
Metcalf: It's inevitable. You learn the play in a way, and it fills in that final puzzle piece. But that rawness is going to be really fun to slog through, all together as a group, and talk about afterwards. I look forward to that, to filling the house.
Boutsikaris: There's a part of us that just can't wait for that.
Metcalf: It's really scary, too.
Bakula: Well, because of the nature of the piece--it's so intimate--we're sharing a lot of our journey with an audience, strangers, and giving this time that we've had, that's pretty much been —
Williams: Us.
Bakula: Our womb. [Jane has] had to give it up a little bit already, to us, and now we're going to all collectively give it up to an audience.
Anderson: That is part of the terror of performance. The rehearsal room is incredibly private and very, very safe. But we all know that if we stay in that room too long, we get bored out of our minds. It's a beautiful progression. The tech is really the first time you get out of the rehearsal room, and the whole stinking thing falls down.
Williams: And it did.
Anderson: And everybody--directors, playwrights, and actors--all know, and all forget, that the first couple of days of tech are agonizing. Do you know Bill Ball, the director? I was reading his wonderful book about directing [A Sense of Direction: Some Observations on the Art of Directing]. And he said when he techs, he asks the prop person to provide him with a jar of peanut butter and white bread, and he makes himself peanut butter sandwiches for comfort because he knows he's going to just feel like garbage during this tech. So he sits back and eats his comfort food and pretends he's a little boy back in his mother's kitchen.
Boutsikaris: It should have been whole wheat.
Williams: Funny, I made a peanut butter and jelly for a tech day. I did. Subconsciously I must have wanted that comfort.
Anderson: The process in the adventure of live theatre is to constantly forgive yourself for getting lost, because if you don't get lost in the process, you're not going to find the treasure. And that's why the rehearsal room has to be very, very safe. And that's why it's very dangerous for a playwright to direct their own work, because the playwright knows what the little nuggets are, and I want to tell them, and sometimes I do just to save time and when you guys ask me. But if I hand it to you, it won't mean anything. All of you had to go in the wrong direction in the rehearsal process in order to find it organically.
Williams: We went way wrong.
Back Stage: Where did you go?
Metcalf: We fell in every trapdoor that there was. My personal one is--and I'm still looking for places where I can keep it buoyant and simple and up, but when you deal with this subject matter it's very tempting to go dark. And as Jane has to keep reminding me, it's light. These are people sidestepping all the darkness, which keeps it up and moving. But on the page, your first instinct is not that. That's why we tell her that this play has to come with a manual. And she insists we would figure that out eventually.
Anderson: It was a timesaver to have me there.
Metcalf: And I still fight against it. I still fight against getting sucked into some of the subject matter and pace. To play against it is very hard sometimes.
Williams: What's interesting is that that's the character's dilemma, too. Trying not to get sucked into that darkness: That's the character's obstacle, and that's the actor's obstacle too. Self-pity was the one for my character; I went through an entire rehearsal, and Jane said, "This woman is very strong, and she's positive, and she keeps moving forward." And I went, "Oh, right."
Anderson: But you all understand that if you didn't play the dark or the pain first, then you'd just be playing the surface character.
Metcalf: True.
Anderson: You have to feel that other stuf so you can turn it into subtext. That's why you should never self-flagellate.
Williams: But it's so much fun.
Metcalf: It goes with being an actor.
Anderson: It is part of the process. And the writer does that in private for nine months.
Boutsikaris: Is that how long it took you to write the play?
Anderson: It took me a couple of years, because I started it, went off, directed a couple of films, came back to it, and I had a very early version in which the other couple were friends of theirs, so they were of the same social context, and I realized they didn't have any [knocks knuckles together to indicate confrontation].
Back Stage: [To Boutsikaris] You've been nodding at some of these traps. Do you want to share yours?
Boutsikaris: I still think I'm battling the traps, but maybe everybody feels that way. Everything that I like to do--my bag of two things that I can do on the stage--I have been told not to do.
Bakula: Two? You're feeling good today, aren't you!
Boutsikaris: I was told not to do that by her [indicating Anderson]. So I'm fighting every day not to be the jolly clown or the fast-talking clown. That's a big one for me.
Bakula: My character is a struggle from page one.
Boutsikaris: And this is what we've talked about the whole rehearsal process: "I have the hardest part."
Metcalf: Because we can all see each other's parts perfectly clearly.
Williams: Of course! We can all tell the others what they should be doing. [All laugh]
Metcalf: We just can't get our own.
Back Stage: [To Bakula] Is it his politics, or is it that he's so closed off?
Bakula: It's a combination of all of those things. Look, the real joy of it is that we have characters that are complicated. Ultimately, as challenging and frustrating as it can be, and as "lowering" as it can be —
Boutsikaris: Why "lowering"?
Bakula: Inadequate as I, as you, may feel as an actor, at times, that you're not up to it--of all the levels, beyond the traps, just bringing these people to life. They're very complicated people. And [Jane] has presented each character with a very complicated history, with huge, huge choices to make. It's not a little piece of Americana going on here; these are big, life-changing moments that most of us don't experience, along with political and environmental and all these other huge issues that are going on in our world at this time. So there's a level of the play, and then there's everything behind it that's happened, and then where we are as a society today. So we talk about "how's the audience" and all that, it's very complicated, but joyfully so because we've got something to work on. So we joke about being "done." I said to Dennis yesterday, "Yeah, that first act, I'm pretty much locking that in." That wouldn't be a good idea, put it that way, for me to stop working at this point. Lucky us. Thank you, Jane, and thank you to the other actors, who give us so much to work off of. This would be a challenging piece if we didn't have people, like we talked about yesterday, pushing and showing you other ways to go.
Back Stage: I've been warned by a director friend not to ask that silly "outside-in, inside-out question," because it's as ridiculous as asking actors how they memorize all those lines. But I'm going to risk it here, anyway. Have you worked from the outside, costuming maybe, to help create your characters?
Bakula: I ultimately don't know what that means.
Back Stage: See, bad question.
Boutsikaris: What does it mean?
Metcalf: What your own technique is, how you approach —
Anderson: It's the famous Olivier story —
Boutsikaris: The nose story?
Anderson: The nose story, yes.
Williams: Chris Walken says he figures out what kind of shoes his character wears.
Boutsikaris: One day, Laurie brought in that wreath her daughter made, and that was such an interesting moment. It kind of made everything sparkly for a few minutes, and it made [Laurie] lighter, and it made us lighter. I loved that. We should do more of that.
Williams: It was a laurel wreath [indicates around forehead], and she brought it in for the characters, and she put it on [Dennis] —
Anderson: I'd love to get wacky —
Metcalf: And then I've never used it since. I went down deep again. I was sparkly for half an hour. I brought it in hoping it would help.
Anderson: It did.
Bakula: But that was a physical manifestation of a lot of stuff that Jane had been talking about.
Metcalf: You try to understand it from the inside, and then once you do, then you're able to say, "My character would wear that or write with this or dance like this." So I guess it's inside first. I don't know; everybody works so differently.
Anderson: I like the idea of getting playful again, like Dennis said.
Metcalf: Good God!
Anderson: You have your foundation. Now you can get playful again. You can start bringing in a few wacky things.
Boutsikaris: She does some things onstage to me that you shouldn't know about.
Anderson: Good! I don't want to know.
Metcalf: Well, we're trying to have some secrets.
Anderson: That's exactly what it is.
Metcalf: So that's kind of inside out. We know that we have these secrets, so then we try to physicalize it on stage by some unspoken--[to Boutsikaris, who looks at her teasingly] Shut up!
Anderson: It's a major point, and I think young actors need to know that they have a right to have secrets from their directors. Forgive me, I don't want to do the child-parent metaphor, because I don't regard you as my children. Just as a good parent knows that their adolescent son or daughter needs to have a secret life in their room, so I shouldn't know a lot of the stuff--all the little precious things. If I stick my nose into every single thing and know the little tricks, it kills the magic. Secrets are what feed the muse and the creative spirit.
Bakula: That's what used to feed our whole industry. Our business used to be a magical, inventive, creative place. Now we've decided that it's important in our society to tell everybody everything that we do, how we do it, how we make somebody fly, all the things we used to go to the theatre for and marvel and love and be transported. Now we're like bad magicians. We've told all the tricks.
Williams: But that's not just us. That's also the public's demand to know.
Bakula: We're watching Inside Edition at 7:30 to find out.
Boutsikaris: That's not the theatre.
Bakula: I think so, to a certain extent it is. It's not as much. This is the best-kept secret.
Metcalf: The best kept of the three [mediums]. Still, I think people who come, they know each of us from different work--from work outside the theatre. Sometimes they want to come and see who they saw on TV or who they saw in the movie.
Back Stage: What do you wish other actors knew, about you or about acting?
Anderson: What I encourage young actors to do, as someone who auditions them, if they can, is move to New York and learn a real craft.
Boutsikaris: Or Chicago, or San Francisco.
Anderson: And not only learn their craft but walk the streets, observe human behavior. I moved to New York when I was 19, dropped out of college, and I was this middle-class white girl from Northern California. The best thing a young artist or wanting-to-be artist could do is expose themselves to every cultural level of our society. Walking the streets of New York--I used to walk down to the Bowery, the East Village, the Upper West Side, and just watch the great human parade. The museums--artwork, even an anthropology museum, science museum--to not limit yourself to the arts in your personal education. Every role you'll play is going to require a knowledge about not only the human condition but also about society. Developing your intelligence is vital. That's why I said, the reason I begged for these actors, and I was praying and hoping they would take these parts--it wasn't a matter of them begging me--I love these four actors because of their intelligence and their life experience.
Williams: I think there's a real tendency with young actors today that, once you get in this business, it's very narrow. You become totally focused on the next job, the next audition, and you lose touch, as Jane says, with real behavior, with normal-people behavior. And you start emulating other actors. And good acting comes from observing regular human beings, not from observing other actors, necessarily.
Boutsikaris: You don't learn to act by coming [to Hollywood] and doing an under-five, playing a waiter. You learn to act by being in a play.
Metcalf: There does seem a tendency in acting classes to see young actors copy TV acting or copy their favorite peer in a movie.
Boutsikaris: TV acting being normal behavior.
Metcalf: It has an odd style to it.
Bakula: What. Are you. Saying?
Metcalf: And if you're working on a scene from a play and you try to throw that onto the scene, it isn't working. You're just going through the movement. And if you've done only surface work —
Williams: Well, part of the difficulty is that in TV and film you don't really get to play out the arc of the character every night.
Bakula: You don't get to rehearse. That's ultimately the big difference.
Williams: But even if you have rehearsal. The Big Chill, we had two weeks of rehearsal before, but it's a very different thing.
Metcalf: That was unusual, The Big Chill, that you had that rehearsal.
Williams: The only reason we had it was because they didn't want to pay a crew for more shooting time. So they told Larry Kasdan that he could have two weeks' rehearsal but he couldn't have two more weeks' shooting time, which he had wanted.
Boutsikaris: Do you think ultimately that was a better thing?
Williams: Absolutely, because it allowed us to become an ensemble.
Anderson: And it showed on the screen. There were secrets between you. It's going back to secrets.
Williams: And there were real secrets between us.
Bakula: The biggest challenge, I think, for the young actors today is not of their doing. There's so much less opportunity to go and work in the theatre than when I started out. And it's a shame. But that's the way it is. And young actors ask, "What should I do?" I say, "Find theatre. Find it anywhere you can. Do it, be a part of it, find a class that's about theatre and not about how to act on a TV show." You don't have any respect for what it is you're--and I hate to say "craft," but if you don't get out there--it's so personal when you're doing it live, when you're in front of people. It demands a different kind of honor. And the avenues, the opportunities, there aren't as many. When I was in New York, the summer stock that was available to do in this country, that's what let young people do it. Also, the reality is that the TV landscape, especially, has changed because the guest stars on TV shows are all people with names now. The networks want people that bring something they can use for publicity. When I got an opportunity to be a guest star on Designing Women, when I came out here--I wouldn't get that opportunity today. If they could, they'd go through 10 other guys first, hoping they could get one of those guys. I don't mean to be discouraging, but that's the reality. It's harder to do. The world is extremely challenging to young people right now, in their 20s. And I know because I have a kid in her 20s. It is a very hard world to be 20 in right now. If you can do theatre, it can translate to anything else.
Metcalf: But not the opposite. In L.A., there's a lot of Waiver productions.
Williams: But young people don't want to put in their dues. Everybody wants to be a star and make money.
Bakula: Get out of this town. I don't think, for young actors, this is the place to be.
Metcalf: My daughter is 24. She spent the last two years in New York, trying to find theatre work. There aren't that many parts to go around. And, as anywhere, there are a handful of people who are going to get those 24-year-old parts. She's decided to come here [to Los Angeles]. It's all backwards. Everything here is geared so young that she finds that her chances of getting a guest spot are better. Then you are able to go back because you're legit now. It's so backwards. Now you can go back and do a play.
Bakula: Thank you for coming and talking to us.
The Quality of Life will be presented by the Geffen Playhouse at the Audrey Skirball Kenis Theater, 10886 Le Conte Ave., L.A. Tue.-Thu. 8 p.m., Fri. 7:30 p.m., Sat. 3:30 & 8 p.m., Sun. 2:30 & 7:30 p.m. Oct. 10-Nov. 18. (310) 208-5454. www.geffenplayhouse.com.