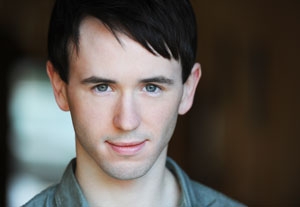 Garett Hawe
Upper West Side
One of my favorite things about living on the Upper West Side is its convenience to where I work in Times Square. My subway ride to work in "Newsies" on Broadway takes about 7 minutes and drops me off directly across from the Nederlander Theatre. I love living outside of the craziness of midtown but close enough so I can get there at a moment's notice.
The Upper West Side is also the home of the famous Steps on Broadway, a large commercial dance studio where you can find some of Broadway's best working on their technique. I also love to frequent the magnificent Lincoln Center, which hosts its own Broadway theater, the New York City Ballet, the Metropolitan Opera, the New York Philharmonic orchestra, and other resident performing arts companies.
The Upper West Side has some of the most delicious restaurants in NYC. Some of my favorites include Good Enough to Eat and Alice's Tea Cup for brunch, Rosa Mexicano for dinner, and Cafe Lalo for dessert. One of the best things about living on the Upper West Side is being between the glorious Central Park and Riverside Park. It's easy to get caught up in the craziness of the city, so it's nice to have these parks to go to when you just want to relax under a tree with a good book.
Garett Hawe plays Albert in "Newsies" on Broadway.

Eli James
Crown Heights-Lefferts Gardens, Brooklyn
Crown Heights-Lefferts Gardens isn't as close to the city as Williamsburg or Fort Greene, but it is one of the few neighborhoods in Brooklyn that still approaches what could almost be called affordable. (This should imply that it is not quite as gentrified.) It also puts you close to Prospect Park, which can make the whole experience of living in Crown Heights totally worthwhile.
Auditions, shows, and classes are rarely clustered in the same place, but since you can be pretty sure they're going to be in Manhattan, you can't go wrong living near the Franklin Avenue subway stop. It's generally 30 minutes on the train to Union Square, but you'll need to budget an hour to get to most places in the city on time.
There are great places to eat, drink, and work on Franklin Avenue. Barboncino has great gourmet pizza and wine, and the cocktails are fantastic. (Get the Manhattan.) Though it's technically an ice cream parlor, the Candy Rush is a good coffee shop alternative to the much busier, hipper Breukelen Coffee House. Dutch Boy Burger is not for the health-conscious, but if you like burgers and bourbon-spiked milk shakes, this is your place.
Eli James is in the ensemble of "One Man, Two Guvnors" on Broadway.

Erin Wilhelmi
Astoria, Queens
I moved to Astoria three years ago and never looked back. For an actor on a budget, Astoria offers relatively affordable apartments, compared with Manhattan, and a quick commute to midtown compared with most parts of Brooklyn. I live off the Broadway stop on the N/Q line, and I can make it to almost all of my auditions in 45 minutes or less.
I love being able to escape from Manhattan into a neighborhood filled with actors, artists, families, and diversity. Everything you need is in walking distance. There is a laundromat on every corner, access to gyms, grocery stores, pharmacies, clothing stores (even chains like Express and the Gap), and best of all, every kind of food imaginable.
My favorite place in Astoria is Yoga Agora. This studio offers $5 classes taught by amazing teachers, some of whom are also actors. Several successful voice coaches teach out of their apartments in Astoria, and dance studios offer classes for adults.
The only con I can think of is the distance from my apartment to the nearest park. There is a beautiful park along the river, but if you live east of the subway, it's a bit of a trek to get to. However, Central Park is only a few subway stops away.

Erin Wilhelmi will star as Alice in the upcoming film "The Perks of Being a Wallflower."
Jaime Cepero
Hell's Kitchen
(David Needleman)

Hells Kitchen is a pretty ideal place for the young actor. It's walking distance to pretty much all major subway stations, and several landmark sites like Columbus Circle, Times Square, and in general, every single Broadway theater. For rehearsal, it's just a hop, skip, and jump to Ripley Grier, Shetler Studios, 42nd Street Studios, and many others.
Being within walking distance of everything saves a lot of cash, and makes travel much easier. When you want some grub, there is a plethora of different hip restaurants on 8th and 9th avenues as well. Some cool and affordable places I love are Hummus Kitchen for Mediterranean food, and Jing for sushi, and if you have a sweet tooth, Schmackeries Cookies – get the red velvet cookie - or Crepery – dessert and savory crepes that are cheap and HUGE. (Can u tell I like sweets yet?)
As with anything, the cons are most likely you won't be able to set foot outside without running into someone you know or a gaggle of tourists as it's so close to  Times Square. But you win some you lose some right? All in all, it's a wonderful place to be when you are new to the city and enjoy good food and a busy atmosphere. I dig it.
Jaime Cepero plays Ellis on NBC's "Smash."
Chaske Spencer
Williamsburg, Brooklyn
I have lived in Williamsburg for 8 years. It's not as cheap as it used to be, but there are a lot of artists and musicians that live in the neighborhood. It's a great environment for actors.
Transportation is easy. You just hop the L line, and you can get just about anywhere in 30 minutes if the train gods are smiling on you.
There are a lot of restaurants and places you can go to hide out. I love The Noodle Shop. It's amazing! Fanny's has the best steak and fries. I have been going there for years, and the lady who runs it knows me. The music and atmosphere is great. Harefield has an amazing brunch; the huevos rancheros is excellent.
The music scene is pretty dope, a lot of amazing bands perform here. Williamsburg is a center of new alternative and rock music with a lot of undiscovered talent. There is a market here with food tents and vintage shopping on the water's edge. It's awesome!
The only con in the neighborhood, is the Hipsters (laughs)! Williamsburg used to be swarmed with hipsters, but now there are is more of a mix of moms and baby carriages. A good mix of people is great.
Over all Williamsburg has great restaurants, reasonable prices, and it feels like a small community. I have a group of friends here, and it's wonderful.
Chaske Spencer plays Sam Uley in The Twilight Saga.
J. Bernard Calloway
Morningside Heights
(Robert Kim)

The diversity in culture is one of the main reasons I feel my neighborhood is great for actors. I am surrounded by parks on Manhattan Ave (110th St.-115th St.), Morningside Ave.(116th St. -123rd St.), and the well-noted Central Park, which starts at 59th St. and goes all the way up to 110th St. on the east and west side. All three are pedestrian friendly and great for a nice walk/jog or bike ride. It only takes 20-25 minutes to get to Times Square from 110th St. I ride all the time, and it's excellent!) Central Park is also a haven for concerts, sporting events, theatrical performances. You name it!
This area has all the transportation you need to get anywhere. If you are on the run going downtown and trying to get to an audition on time? Take the A or D train express from 125th St. and you will be in midtown in 15 minutes. Local trains (B or C)  are accessible from this stop also and only take about 25 minutes to get to midtown. There are also connecting buses that all run east, west, north and south. There's even a bus (M60) that takes you to the Laguardia airport from 125th street.
This area isn't known for auditions for film, television, or theater. We do have the prestigious  Apollo Theater located on 125th St. between Frederick Douglas Ave. and Adam Clayton Ave.
This area has to be the new "Restaurant Row" of Manhattan! With restaurants ranging from comfort food to Italian and everything in between. Just to name a few, there's Mocha, Chocolate, Lido's, Harlem Tavern, Cedric's, and many more.
This city is building newly renovated co-ops for renters and owners all over Harlem. Every street is well lit and there's a police station on 122nd street for your added security.
J. Bernard Calloway plays Delray Farrell in "Memphis" on Broadway.