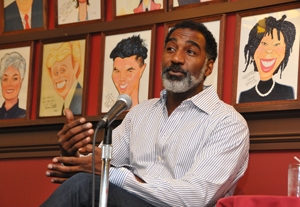 On the hottest day of the year, Norm Lewis cannot play it cool.
It's not unusual, he tells the lunch crowd in the air-conditioned upstairs dining room at Sardi's during the inaugural event in a lunchtime conversations series benefitting The Actors Fund.
He also could not play it cool when listening for his name when the Tony nominations were announced. "I was gonna try to play it cool," he said at the event, "be one of those people who say someone called me and woke me up and told me I was nominated. But I couldn't sleep that night, so I was awake, and I tuned in, and I was hoping to hear my name. And when I did, there was a tear that came down."
But Lewis is made greater by his lack of detachment. His natural tendency toward affability and graciousness, and the sense that he's still a little bit cowed by the admiration he inspires is ultimately very winning.
"I sang in church", Lewis said, "but I didn't know I could sing well until I was 17. You just sing, praise God, and make a joyful noise, whether it's a good noise or not."
It wasn't until singing in a high school class that a friend told him he had a really good voice. From there, it was Star Search-inspired contests in his hometown of Eatonville, Florida. After a win garnered a job offer on a cruise ship, Lewis wavered. "Advertising was going to be my career; I didn't think I was good enough to be a professional performer," he remembers. "And my supervisor said, 'You don't want to be 85 years old and saying coulda-woulda-shoulda.'"
At 49, with Broadway career more than two decades long, Lewis still has the humbleness that he started with, and a youthful outlook on performing, including stage fright, aspirations to duet with hero Johnny Mathis, and to play Phantom on Broadway.
Lewis glows on the topic of his "The Gershwins' Porgy and Bess" co-star Audra McDonald, whose appearance today was cancelled by vocal rest on doctors' orders. He reiterates how taxing the show is, citing his own vocal exhaustion and chiropractic maintenance, but insists that McDonald is, if anything, tougher.
"Bess stumbles on after the picnic scene barefoot, the floor is wood and Audra's giving 110%-- an inch of wood went into her foot," he says of an onstage incident. "She stayed completely in the scene, finished the show, and then went to the emergency room." His admiration and chemistry with her, he maintains, comes from trust born of a twenty-year friendship.
Perhaps Lewis' greatest pride in "Porgy and Bess" is its power to bring out a diverse crowd. "It's such a classy show, and I see such diversity in the audience," he explains. "There hasn't been a lot of that. When the 'Color Purple' was on, I would see just a sea of black people come out. When 'In the Heights' was on, you saw Puerto Ricans, Dominicans… everyone was there showing their flag. There's a market there."