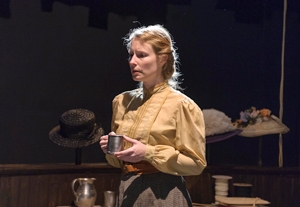 The New York Innovative Theatre Foundation, which honors Off-Off-Broadway theater, announced their 2012 nominees for their 8th annual IT (Independent Theatre) Awards on Monday.
This year's IT nominees feature more than 137 individual artists from 52 productions and 57 Off-Off Broadway theater companies. The Gallery Players' "A Man of No Importance" and the Metropolitan Playhouse's "The House of Mirth" lead in several categories, including outstanding actress and actor in a lead role, outstanding actress in a featured role, and outstanding director. 
Since 2004, The New York Innovative Theatre Foundation has honored independent theater artist from more than 350 theater companies, 1,650 individual artists, and 450 productions.
"You need a new mainstream voice for what is coming up," playwright Michael Weller said in the release. "It is very important that this kind of ceremony becomes more and more central just so everyone recognizes the body of work that is being done."
The 8th annual IT Awards ceremony will take place on September 24 and will be hosted by comedian Harrison Greenbaum. A complete list of nominees is below. 
Outstanding Ensemble
"The Complete and Condensed Stage Directions of Eugene O'Neill: Vol. 1, Early/Lost Plays"
"Conni's Avant Garde Restaurant Returns in: The Mothership Landing"
"Eightythree Down"
"For Black Boys Who Have Considered Homicide When the Streets Were Too Much"
"Homunculus: Reloaded"
"Urban Odyssey"

Outstanding Solo Performance
Bree Benton, "Poor Baby Bree in I Am Going to Run Away," LaMaMa Experimental Theater Club
Greg Oliver Bodine, "Poe, Times Two," WorkShop Theater Company
Zac Jaffee, "Heroes and Other Strangers," the cell theatre
Melanie Jones, "Endure: A Run Woman Show," Collision Productions
Juan Francisco Villa, "Empanada For A Dream," Ballybeg & terraNOVA Collective
Raïna von Waldenburg, "Oysters Orgasms Obituaries," LaMaMa Experimental Theater Club in association with Center for Embodied Performance
Outstanding Actor in a Featured Role
Karl Gregory, "Frogs," Fault Line Theatre
Ian Holcomb, "Eightythree Down," Hard Sparks in association with Horse Trade Theatre Group
Jason Howard, "Advance Man," Gideon Productions
Bryan Kaplan, "Eightythree Down," Hard Sparks in association with Horse Trade Theatre Group
Curry Whitmire, "Christopher Marlowe's Chloroform Dreams," Lunar Energy
Stephen Alan Wilson, "The Last Days of Judas Iscariot," T. Schreiber Studio
Outstanding Actress in a Featured Role
Celeste Arias, "Demon Dreams (Oni No Yume)," Magic Futurebox
Lauren Blumenfeld, "Exit Carolyn," Sans A Productions
Teresa Kelsey, "The House of Mirth," Metropolitan Playhouse
Marie Marshall, "The House of Mirth," Metropolitan Playhouse
Ryan Templeton, "A Hard Wall at High Speed," Astoria Performing Arts Center
Halley Wegryn "Gross, Sex Good; Money Bad," Broken Watch Theatre Company

Outstanding Actor in a Lead Role
Adam Barrie, "Dust," Tenement Street Workshop in association with Incubator Arts Project
Hunter Canning, "Dust," Tenement Street Workshop in association with Incubator Arts Project
Karl Gregory, "From White Plains," Fault Line Theatre
Greg Horton, "A Man of No Importance," The Gallery Players
Brian Miskell, "Eightythree Down," Hard Sparks in association with Horse Trade Theatre Group
Charlie Owens, "A Man of No Importance," The Gallery Players
Aidan Redmond, "The Real Thing," Boomerang Theatre Company

Outstanding Actress in a Lead Role
Melody Bates, "Eightythree Down," Hard Sparks in association with Horse Trade Theatre Group
Renee Claire Bergeron, "A Man of No Importance," The Gallery Players
Casandera M.J. Lollar, "The Runner Stumbles," Retro Productions
Charlotte Pines, "Callous Cad, Tom X." Chao in association with Kim Katzberg
Laura Ramadei, "Exit Carolyn," Sans A Productions
Christina Shipp, "Ajax in Iraq," Flux Theatre Ensemble
Outstanding Choreography/Movement
Jessica Isa Burns, "For Black Boys Who Have Considered Homicide When the Streets Were Too Much," Modern-Day Griot Theatre Company
Lee Sunday Evans, "The Deepest Play Ever: The Catharsis of Pathos," CollaborationTown
Christine O'Grady, "A Man of No Importance," The Gallery Players
Joe Osheroff & Evan Zes, "Homunculus: Reloaded, Homunculus" Mask Theater
Lauren Sharpe, "The Complete and Condensed Stage Directions of Eugene O'Neill: Vol. 1, Early/Lost Plays," New York Neo-Futurists
Turner Smith, "Romeo and Juliet," Northwest Passage

Outstanding Director
Kevin Laibson, "Demon Dreams (Oni No Yume)," Magic Futurebox
Christopher Loar, "The Complete and Condensed Stage Directions of Eugene O'Neill: Vol. 1, Early/Lost Plays," New York Neo-Futurists
Joe Osheroff, "Homunculus: Reloaded," Homunculus Mask Theater
Alex Roe, "The House of Mirth," Metropolitan Playhouse
Aaron Rossini, "Frogs," Fault Line Theatre
August Schulenburg, "Ajax in Iraq," Flux Theatre Ensemble
Outstanding Lighting Design
Nick Francone, "Miranda," MirandaCo
Richard Kent Green, "Poe, Times Two," WorkShop Theater Company
Ben Hagen & Joe Skowronski, "LoveSick (or Things That Don't Happen)," Project Y Theatre Company
David A. Sexton, "The Spring Fling: My Best/Worst Date Ever," F*It Club
Cat Tate Starmer, "A Hard Wall at High Speed," Astoria Performing Arts Center
Jeanette Oi-Suk Yew, "Conni's Avant Garde Restaurant Returns in: The Mothership Landing," Conni's Avant Garde Restaurant in association with the Irondale Center

Outstanding Costume Design
Sidney Fortner, "The House of Mirth," Metropolitan Playhouse
Denise Greber, "Urban Odyssey," LaMaMa Experimental Theater Club in association with LOCO7
Kim Katzberg, "Penetrating the Space," Kim Katzberg
Jessica Sofia Mitrani, "Hypnotik: The Seer Will Doctor You Now," The New Stage Theatre Company
Ayanna Siverls-Streater, "For Black Boys Who Have Considered Homicide When the Streets Were Too Much," Modern-Day Griot Theatre Company
David L. Zwiers, "The Asphalt Christmas," Gracye Productions
Outstanding Set Design
Stephen K. Dobay, "A Hard Wall at High Speed," Astoria Performing Arts Center
Kevin Judge, "LoveSick (or Things That Don't Happen)," Project Y Theatre Company
Sarah E. Martin & Sara Nelson, "The Spring Fling: My Best/Worst Date Ever," F*It Club
Steve O'Shea, "Up To You," TADA! Youth Theater
Sean Ryan, "Clowns Full-Tilt: A Musing on Aesthetics," Clowns Ex Machina/La MaMa
Andy Yanni, "Felix and the Diligence, or a Play About Fishermen in the 1940's," Pipeline Theatre Company
Outstanding Sound Design
Martha Goode, "Costa Rehab," Maieutic Theatre Works (MTWorks)
Christopher Loar, "The Complete and Condensed Stage Directions of Eugene O'Neill: Vol. 1, Early/Lost Plays," New York Neo-Futurists
Mark Parenti, "The Spring Fling: My Best/Worst Date Ever," F*It Club
Nathan A. Roberts, "A Hard Wall at High Speed," Astoria Performing Arts Center
Tim Schellenbaum, "Urban Odyssey," LaMaMa Experimental Theater Club in association with LOCO7
Matt Schloss, "Miranda," MirandaCo
Outstanding Innovative Design
Gyda Arber & Aaron Baker, "Red Cloud Rising," The Fifth Wall in association with The Brick Theater
Maia Cruz Palileo, "Penetrating the Space," Kim Katzberg
Elizabeth Barrett Groth & Amy Mathews, "We in Silence Hear a Whisper," Red Fern Theatre Company
Joe Osheroff, "Homunculus: Reloaded," Homunculus Mask Theater
Federico Restrepo & Angela Sierra, "Urban Odyssey," LaMaMa Experimental Theater Club in association with LOCO7
Suchan Vodoor, "Endure: A Run Woman Show," Collision Productions
Outstanding Original Music
Karolyn Bethke, Kris Kukul, John Sully, Elizabeth Swados & Martin Wallace, "Urban Odyssey," LaMaMa Experimental Theater Club in association with LOCO7
Sasha Bogdanowitsch, "Erosion: a Fable," Loom Ensemble
Christine Owman, "Endure: A Run Woman Show," Collision Productions
Jeff Raab, "12th Night," Libra Theater Company
Kamala Sankaram, "Miranda," MirandaCo
Sxip Shirey, "Prometheus Within," LaMaMa Experimental Theater Club in association with Skysaver Productions
Outstanding Original Short Script
Lucy Boyle, Mort, "The Spring Fling: My Best/Worst Date Ever," F*It Club
Chisa Hutchinson, "This is Not the Play," Mad Dog Theatre Company
Dean Imperial, "The Needle Through the Arm Trick, Too Much Too Soon," Lesser America
Vincent Marano, Artistic License, What I Meant Was... The Odd, Short-Ish Of Vinnie Marano," teatro oscuro
Joe Osheroff & Evan Zes, "Homunculus: Reloaded," Homunculus Mask Theater
Anna Ziegler, "A Map of Broken Glass, The Spring Fling: My Best/Worst Date Ever," F*It Club

Outstanding Original Full-Length Script
Zac Jaffee, "Heroes and Other Strangers," the cell theatre
Melanie Jones, "Endure: A Run Woman Show," Collision Productions
Mariah MacCarthy, "The Foreplay Play," Caps Lock Theatre
Michael Perlman, "From White Plains," Fault Line Theatre
Mac Rogers, "Advance Man," Gideon Productions
Juan Francisco Villa, "Empanada For A Dream," Ballybeg & terraNOVA Collective
Outstanding Performance Art Piece
"The Complete and Condensed Stage Directions of Eugene O'Neill: Vol. 1, Early/Lost Plays," New York Neo-Futurists
"Conni's Avant Garde Restaurant Returns in: The Mothership Landing," Conni's Avant Garde Restaurant in association with the Irondale Center
"Empanada For A Dream," Ballybeg & terraNOVA Collective
"Endure: A Run Woman Show," Collision Productions
"For Black Boys Who Have Considered Homicide When the Streets Were Too Much," Modern-Day Griot Theatre Company
"Homunculus: Reloaded," Homunculus Mask Theater
Outstanding Production of a Musical
"LoveSick (or Things That Don't Happen)," Project Y Theatre Company
"A Man of No Importance," The Gallery Players
"Miranda," MirandaCo
"The Secret Garden," Astoria Performing Arts Center
"Unville Brazil," FullStop Collective
"Up To You," TADA! Youth Theater

Outstanding Premiere Production of a Play
"Advance Man," Gideon Productions
"Demon Dreams (Oni No Yume)," Magic Futurebox
"Eightythree Down," Hard Sparks in association with Horse Trade Theatre Group
"The Foreplay Play," Caps Lock Theatre
"From White Plains," Fault Line Theatre
"A Hard Wall at High Speed," Astoria Performing Arts Center
Outstanding Production of a Remounted Play
"Ajax in Iraq," Flux Theatre Ensemble
"Frogs," Fault Line Theatre
"The House of Mirth," Metropolitan Playhouse
"Poe, Times Two," WorkShop Theater Company
"The Real Thing," Boomerang Theatre Company
"The Violet Hour," The Active Theater in association with Goode Productions