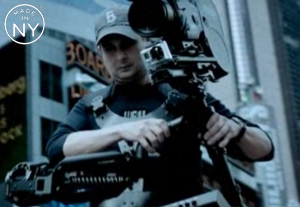 One week after announcing that
film and TV production in New York City is at its highest levels in history
, the Mayor's Office of Media and Entertainment has launched "
Reel Jobs. Reel Proud. Real New Yorkers
," a new PSA campaign that highlights the thousands of New Yorkers who work behind the scenes on local productions.
A location manager, set decorator, Steadicam operator, costume designers, and special effects coordinators star in the videos, representing an industry that employed 130,000 New Yorkers and generated $7.1 billion for the local economy in 2011. The PSAs emphasize the important role that film and television production plays in New York's cultural and economic landscape.
IATSE, the union of professional stagehands, motion picture technicians, and allied crafts, made their members available for the production crew at no charge. "IATSE and our talented crews were happy to help our City on the Reel Jobs campaign," Dan Mahoney of IATSE said in a statement. "We live here, we work here, and we are proud New Yorkers!"
The campaign's videos and ads will appear across various distribution platforms throughout the city, including local AMC theaters, on television and Taxi-TV, in subways and bus shelters, and online. To watch the PSAs, visit
www.NYC.gov
or
www.facebook.com/NYCMINY
.
"When you pass a film crew on your way to work, we hope this 'Reel Jobs' campaign will remind you that you're actually passing your fellow New Yorkers where they work," Katherine Oliver, commissioner of the Mayor's Office of Media and Entertainment, said in a statement. "There are 130,000 New Yorkers who are part of the production industry here in the five boroughs, working hard, raising families and helping make New York a thriving center for film and television. We're grateful for all of the support we've received from the creative industry and local labor to make this campaign possible."
The New Yorkers featured in the "Reel Jobs" PSA campaign include Damon, a location manager and Brooklyn native who has worked on numerous projects including "Sex and the City," "The Adjustment Bureau," and "The Interpreter"; Christina, who is the set decorator on "Gossip Girl"; Lisa and John, the Emmy-nominated costume designers on HBO's "Boardwalk Empire"; the Kirshoffs, a family of special effects coordinators who create special effects for New York-based films and TV shows like "Person of Interest," "Boardwalk Empire" and "Unforgettable"; and Manny, an Emmy Award-winning TV cameraman and Steadicam operator with over 20 years of experience in the broadcast industry.
Daniel Lehman is a staff writer for Back Stage. Follow him on Twitter: @byDanLehman