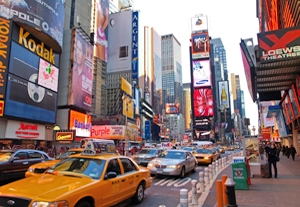 Mayor Michael Bloomberg announced on Thursday that television production in New York City hit a record high in 2011,
Variety
reported. The city was the location for 23 series in the 2011-12 season, compared with just nine a decade ago.
Speaking at a news conference on the set of "Gossip Girl" at Silvercup Studios on Thursday, Bloomberg said, "New York City has surpassed all previous records for film and television production. We're proud to be home to employers like 'Gossip Girl,' Warner Bros., and Silvercup Studios."
According to the Mayor's Office of Film, Theatre and Broadcasting, "Gossip Girl" spent $200 million on local development and hired more than 120 principal actors, 180 crew members, and over 7,000 background actors last season.
In total, the mayor said that 188 films and more than 140 television shows were shot in NYC last year. Bloomberg's office also reports that the industry contributes about $5 billion a year to the local economy, employs more than 100,000 behind the scenes crew, and supports local businesses. New York State's tax credits for film and TV production, equal to 30 percent of costs spent in the state, have attracted producers to shoot in Gotham.
"The Mayor's Office of Media & Entertainment is committed to working hard to make sure that the industry continues to grow and expand in 2012, bringing even more jobs for New Yorkers," said Katherine Oliver, commissioner of the Mayor's Office of Media and Entertainment.