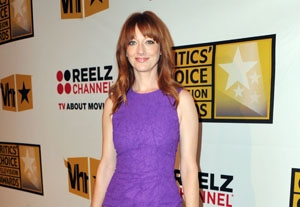 Several ABC comedy pilots picked up casting directors this week, Back Stage confirmed.
"
American Judy
," from ABC Studios, will star "Arrested Development" alum Judy Greer as a newly wed city girl who moves to a small town, where she has to deal with step-children, a mother-in-law, and the town sheriff, who happens to be her husband's ex-wife. It will be cast by Susan Vash ahead of a mid-March shoot. Greer has recently garnered praise for her supporting role in the Oscar-nominated film "The Descendants." She also lends her distinctive voice to FX's animated comedy "Archer"
Speaking of "Arrested Development" alums, Portia de Rossi is set to star in "
The Smart One
," from Warner Bros. TV, about a woman who begrudging goes to work for her sister, a former beauty queen and weather girl, who has just been elected mayor of a big city. The pilot, produced by de Rossi's wife Ellen DeGeneres, was originally set up at NBC, but ABC picked it up after NBC passed. Casting will be handled by Tim Payne and Lisa Ystrom. No start date is set.
Aside from de Rossi and Greer, ABC has at least two other comedy pilots with established sitcom actresses attached to star. "
Malibu Country
," about a former country singer who divorces her no-good husband and moves her family from Nashville to Malibu, will star country legend and former sitcom star Reba McEntire. "
How to Live With Your Parents for the Rest of Your Life
," also about a recent divorcée, this time one who's forced to move back in with her eccentric parents, will star Sarah Chalke, known for her role as Dr. Elliot Reid on ABC's long-running comedy "Scrubs." (She also starred in CBS' short-lived 2011 comedy "Mad Love," alongside Judy Greer.) Sheila Jaffe will cast the former, which comes from ABC Studios, and has no start date. Susan Edelman will cast the latter, which comes from 20th Television, and is set to go before cameras in mid March.
Alexis Koczara and Christine Shevchenko, former casting directors of CBS' quickly canceled, cross-dressing comedy "Work It," will be staffing up "
Only Fools And Horses
," another project from ABC Studios. The pilot, based on a BBC show, centers on two brothers who scrape by selling shady goods, while constantly dreaming up schemes to get rich. No start date is set.
Ken Miller and Nikki Valko will cast "Prairie Dogs," about a nerdy office worker who, after he becomes a victim of identity theft, takes the opportunity to construct a new identity. The pilot, also from ABC Studios, will get under way in late March.
Finally, Debby Romano and Brett Benner will be tasked with casting the
untitled Adam Sztykiel project
, from 20th Television. It centers on a group of 20-something friends who move to a new city, eager to dip their toes into the dating pool — except for one guy who decides to give a long-distance relationship a try. No shoot date is set.