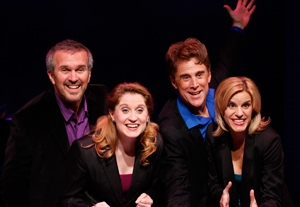 More than two decades after Richard Maltby, Jr. and David Shire's "Closer Than Ever" first opened in New York, the songwriting duo have reunited to revive their musical revue at the York Theatre Off-Broadway. The show has become something of a cult classic, known for its adult-themed songs and dramatic yet hilarious take on the complexities of middle-aged life.
"It seems like a totally new show," says Maltby, who is perhaps best-known for writing lyrics to shows like "Miss Saigon" and "Song and Dance." "These performers are finding new meaning and excitement in the songs. I sit there in the rehearsals thinking, 'I've never heard this song before'"
However, the revival of "Closer Than Ever," which officially opens on June 20 and is directed by Maltby, is only slightly different than the 1989 production. Maltby and Shire discarded two of the original songs and wrote three new ones, in addition to making a few updates to the lyrics to make them more current. Dan Quayle became Glenn Beck, and a $50,000 salary grew to $90,000. Such changes will only be obvious to those familiar with the "Closer Than Ever" studio album, which is perhaps more famous than the show itself.
"The recording has gone out into the world and been our ambassador," says Maltby, adding that former theater students frequently tell him how they listened to the songs and staged their own productions of the revue during college.
For many, the appeal of "Closer Than Ever" lies in its somber yet comedic subject matter. The show touches on adult issues and real-life problems in a way that few other revues do. Both Maltby and Shire describe "Closer Than Ever" as somewhere in between a revue and a book musical, similar to Nora and Delia Ephron's Off-Broadway hit play, "Love, Loss, and What I Wore," in that the songs, although self-contained, share a common theme. 
"If a book musical is a novel, this is 24 short stories," says Shire, who has won both Grammy Awards and Academy Awards for his work as a composer. "Because each one is a scene with a character at a certain moment in their lives, and they all are the same age, going through the same kind of turmoil."
Broadway actors Jenn Colella, George Dvorsky, Christiane Noll, and Sal Viviano make up the four-person cast, each playing a variety of troubled characters. The scenes are interchangeably hilarious and heartbreaking. In "Miss Byrd," Colella plays an adorably shy secretary with a secretly roaring sex life, but later returns to lament a failed marriage. Whether or not the tempo is upbeat, though, each song has a certain poignant quality.
"When you think of a revue, you think of a comedy revue — a bunch of satirical numbers, usually performed by young, perky people," says Maltby. "This is not that. I think that people in the audience find themselves sharing things that you don't usually find in this kind of a show — relating to songs, their own lives, and their relationships with their parents, their children, [and] each other."
Most of the songs in "Closer Than Ever" are based on Maltby and Shire's own experiences, as well as those of their friends, which is perhaps why audiences find the revue so relatable. In the early 1980s, Maltby began collecting stories and observations in an "Urban File," and from time to time, he and Shire would look at the material and write a song. The resulting music was first featured at the Manhattan Theatre Club in 1988 for a musical revue called "Urban Blight," and in January 1989, Maltby's assistant, director Steven Scott Smith, used it to develop a one-act cabaret called "Next Time, Now!" which ran at a nightclub in the West Village. When that received positive reviews, Maltby and Shire decided to write a second act.
"It wasn't until then that we realized that there was a kind of consistency to this," says Maltby. "That they were, in fact, a collection of short stories of people at a certain time in life. [The characters] tend to be educated, witty, smart, neurotic, complex — like people we know."
Although the duo never intended to write revues, says Shire, "Closer Than Ever" is their second — their first, "Starting Here, Starting Now," opened Off-Broadway in 1977. That revue was mostly made up of songs that had been cut from book musicals. Some of the songs in "Closer Than Ever" also come from book musicals, such as "The Bear, the Tiger, the Hamster and the Mole," a hysterical and energetic number about a female scientist who is fed up with men. Maltby and Shire originally wrote the song for their 1983 musical "Baby."
"That's another reason why these songs have this book show feeling," says Shire. "They were written for specific people in a specific moment, which ups the emotional ante."
For the revival, Maltby and Shire opted not to bring the characters into 2012, leaving out references to iPhones and Blackberrys in the song lyrics. They still have a "whiff of their own time," says Maltby, which is reflected in their costumes — bright green, purple, and pink shirts subtly hint at the 1980s. But the characters and their varying situations are just as apt today as they were in 1989. Even if "Closer Than Ever" hasn't changed much on a technical level, the revival feels fresh and energetic.
"Our first preview, I said, 'If that was our opening night, I'd be very happy,'" says Maltby. "This cast is simply amazing. And it's just getting better and better."
"Closer Than Ever" is playing at The York Theatre at Saint Peter's, 619 Lexington Ave. For tickets and more information, visit www.yorktheatre.org.