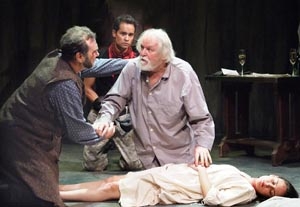 The Antaeus Company, one of Los Angeles' preeminent theaters, has been undergoing upheaval for the past two weeks, as a group of company members has ousted its artistic director from office. At the end of June, Jeanie Hackett was voted out of her leadership position after eight years and given the afternoon to clear her belongings from her desk at the theater in North Hollywood. Whether this giant of a company will retain its earthly footing is now in the hands of its new leadership. Company members Kitty Swink and Bill Brochtrup, who had been the associate artistic directors, are serving as co–artistic directors.
In its 20-year history, the classical theater ensemble has attracted some of the city's great talents to its ranks. Many of its actors are well known onscreen and in theaters nationwide, and some of the city's finest directors and designers have given their artistry to Antaeus productions. Earlier this year the company received the Los Angeles Drama Critics Circle's Polly Warfield Award for its 2010 season. Under Hackett's leadership, the company received or was nominated for awards from the LADCC, the L.A. Stage Alliance, Back Stage, and L.A. Weekly.
But rumors of wrongdoing had been circulating among company members, several of whom were campaigning against Hackett and who swiftly called a vote to immediately remove her from her post. Among the rumors, one centered on alleged misallocation of funds—supposedly earmarked for education but said to have been used to purchase costumes for company productions. Another concerned Actors' Equity Association's supposed refusal to deal with Hackett. Those rumors, according to those who spoke with Back Stage, were investigated, found to be unsubstantiated, and repudiated. However, said one source, the damage was done.
Those present at the meeting saw the events in two distinct ways. Company member, former co–associate artistic director, and current board member Anne Gee Byrd said, "The thought was that [Hackett] would stay on as a company member, certainly, and even stay on as part of a more-diverse management team." Regarding implications of financial misfeasance, Byrd said, "That may have been something somebody was worried about, but it's certainly not the basis of something that was done, nor the truth." Several board members saw the rumors as a direct attack on Hackett, however, and instantly resigned in support of her. Said one actor, "The company has imploded as a result of a 'Lord of the Flies'–type coup, full of unsubstantiated accusations." The actor added, "We do plays about stuff like this."
Faye Grant, one of the board members who resigned in support of Hackett, praised the artistic director for her "vision, gumption, and stamina." Company member Jane Kaczmarek likewise lauded Hackett's artistry and business abilities, blaming her ouster on "a handful of really disgruntled actors over there" who weren't being cast as often as they wanted or in the roles they wanted. Kaczmarek, who referred to Hackett as a good friend, firmly denied any possibility that she misused funds. "Jeanie sacrificed her career for eight years to run this theater," Kaczmarek said.
Byrd insisted that the vote was based solely on leadership style. "This is how I see it," she said. "The company was formed by actors who felt their creativity was somewhat stifled by a theater model where decisions were made from the top down and actors were the hired hands and had little voice in any given theater. We have for the last 20 years given our time—something the public often doesn't understand—and often our money to this company. Many different voices were involved in the process. Jeanie has made us a more organized, a more professional, if you will, company, but she also centralized power to the point where the majority voted not to renew her contract because we felt there ought to be a restructuring of the power."
Others disagreed. Said Grant, "Jeanie was in the process of growing Antaeus into a major contender in Los Angeles theater. Her vision attracted serious donors, fine directors, and serious new up-and-comers. It seems a majority of Antaeus Company would prefer to stay small."
In response to the claims that Hackett micromanaged the company, Kaczmarek said, "I don't think people understand the job of an artistic director. You need someone who knows how to make the right decisions, quickly. In theater it's grow or die. If you have to wait for everyone to vote on everything, you can't run the place." Kaczmarek also worries about the status of grants that helped keep the company running. "People who resigned were the big financial supporters of the group," she said. "Hundreds of thousands of dollars walked out the door."
Reached for comment in Montreal, Hackett said, "Although I'm sad that my tenure as artistic director has come to an end, I am proud of the great things we all accomplished together. I look forward to the continued success of the company."
Representatives of the current leadership at Antaeus did not respond to Back Stage's requests for comment.
Most important to the theater community at large, the company expects to go ahead with its upcoming season as planned under Hackett. As Byrd put it, "I don't see much hitch in our giddyup."