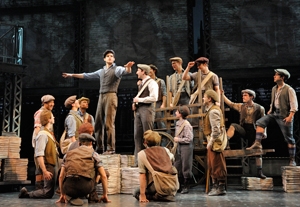 When the musical "Leap of Faith" officially opens at the St. James Theater on April 26, composer Alan Menken will tie with Andrew Lloyd Webber as this Broadway season's most-represented composer. He'll have three shows running simultaneously ("Leap," "Sister Act" and "Newsies"), matching Lloyd Webber ("Jesus Christ Superstar," "Evita," and "Phantom of the Opera"). Stephen Schwartz ("Godspell" and "Wicked") and the late George Gershwin ("Porgy and Bess" and "Nice Work If You Can Get It") both have two shows running each as well.
Sweeping generalizations about any composer's body of work are unwise, of course. Much depends on the lyrics, the subject matter, the situation of a specific scene, and the personality and conflicts of the characters. All that considered, though, are there musical trademarks to be found throughout the Menken songbook? And can all singers excel with his songs?
Sheila Kay Davis played the role of Ronnette in the original "Little Shop of Horrors" Off-Broadway in 1982. "To sing Alan Menken effectively," she says, "you must have volume, power, range, and stamina. His music, more often than not, will have elements of gospel and rock. You must be able to handle somewhat those two styles to really nail his music." Davis believes, however, that Menken's music can be sung effectively by a "cross-section of singers," of various ages and ethnicities.
Musical director and vocal coach Caleb Hoyer has worked on several Menken projects, including a revue featuring his music "One Step Closer." He notes Menken's pervasive use of pastiche—his utilization of various musical influences. The two most notable traits Hoyer cites are sincerity and simplicity.
"Almost all his work contains some pop influence, whether or not it's explicit," he adds. "Even his most simple, straight-ahead ballad would employ straight tone, maybe a little tasteful scooping, and at least a light mix. His music also tends towards bright voices. Outside of specific roles [that] almost employ a character voice (Audrey II, Gaston, Curtis in 'Sister Act') and the odd baritone (Beast, Saul in 'King David'), he tends to write for pop tenors on the male side and female mix/belt. There is a sound for women that has become almost synonymous with his work, which is a pop-influenced mix. I've heard it called the 'Disney Mix,' which typifies the very young, girly sound that singers like Jodi Benson and Lea Salonga used in his Disney films."
According to singing teacher and performer Michael Hanko, young actor-singers reared on Disney soundtracks seldom have a problem finding the right approach to Menken's music. "They tend not to even recognize the crooniness, the 'bent' approaches to tones, the nasality of resonance as anything—those are just the qualities of all the music they've ever heard," he says.
Hanko would encourage young singers to recognize that Menken's music calls for a particular style but that it's not a default style, meant to be applied to all theater songs.: "Nothing makes my skin crawl like hearing a 'classic' Broadway song like 'Edelweiss' approached in this way," he adds.
Where does Menken stand, musically speaking, in relation to Broadway's other multi-show composers: Gershwin, Lloyd Webber, and Schwartz?
Hoyer finds that Menken and Gershwin share a "tunesmith quality"; both have the ability to craft melodies that audiences will quickly latch onto. And Hoyer believes Menken may have been influenced by Lloyd Webber's "large-scale approach to storytelling," something that is apparent in the pop oratorio "King David," for which Menken worked with Tim Rice, a lyricist often paired with Lloyd Webber.
Menken and Schwartz have similar sensibilities, says Hoyer, although Schwartz's music, owes more to the 1960s/1970s singer-songwriter tradition. Performer Corey Mach is conversant with both composers. (He currently appears in Broadway's "Godspell," but also participated in "Newsies" workshops.) He notes that both Schwartz and Menken can shape a melody that builds toward a "remarkable" climax. Both writers "use swelling orchestrations, effective key changes and pop chord progressions that add a hopeful, yearning touch to dreamlike songs like 'Santa Fe' from 'Newsies,' 'Defying Gravity' from 'Wicked,' and 'Finale' from [Schwartz's] 'Pippin.'"
Singer-actor Debbie Shapiro Gravitte sang on Menken's "Little Mermaid" soundtrack and has recorded an album of his songs ("Part of Your Word: The Music of Alan Menken"). Getting to know the composer personally and professionally, she was impressed by his gifts as a singer. She has worked with other celebrated songwriters, including Marvin Hamlisch and the late Jule Styne, but has yet to encounter among composers the "vocal equivalent of an Alan Menken."
Gravitte believes Menken's skill as a vocalist somehow enhances the melodious quality of his work. "The very fact that Alan can literally verbalize/vocalize what he wants to hear [creates] such an advantage for…well, for all of us," she says.