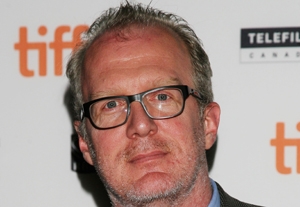 Tracy Letts was a working actor when he tried his hand at writing.
His first play, "Killer Joe," was written in 1991 and won top honors at the 1994 Edinburgh Festival Fringe in Scotland, followed by London and New York runs, and then countless remounts all over the world -- at last count, it had been performed in 15 countries. This week the film adaptation, directed by Oscar winner William Friedkin, hits screens. "Frankly, when I wrote it, I thought, 'Well, this is my first play, and it's going to run for four weeks at this little theater in Chicago and that'll be that,' " Letts says. "The fact that it's had such a life and gone on for 20 years now to this point that the movie's coming out is still shocking to me."
Letts didn't quit his day job -- he'll debut on Broadway this fall as George in "Who's Afraid of Virginia Woolf?" -- but his writing career has also flourished. After penning "Bug" (which Friedkin adapted for the screen in 2006), Letts went on to write "Man From Nebraska" and "August: Osage County," which won the 2008 Pulitzer Prize for drama. A film version with Meryl Streep and Julia Roberts is due in 2013. He followed that with 2008's "Superior Donuts," and his adaptation of Chekov's "Three Sisters" is running through Aug. 26 at Steppenwolf Theatre Company, of which he is a longtime member.
Letts says that balancing two successful careers has forced him to make tough decisions when jobs conflict. But the variety is good for him. "My friend Amy Morton, an actor and director, and skilled at both, refers to this as 'crop rotation,' " Letts says. "It's very good for the soil to do one and then do another." Because of the massive success of "August," followed by "Superior Donuts," Letts estimates he was offstage for nearly two and a half years, his longest hiatus since he began acting at 15. "I was very eager to get back onstage. Not only because it exercises some public part of my personality, but it's nice not to have all the responsibility of a writer," he says. "An actor is mainly responsible for their own track, with an eye to the larger production overall. As a writer, you're responsible for so much more than that, and sometimes it's nice to be able to walk away from a rehearsal saying, 'Someone else gets to deal with that.' "
Writing has also "changed the game" for Letts as an actor, allowing him to be pickier in the parts he chooses. He jokes that he doesn't need "a day on 'Law and Order' with Vincent D'Onofrio throwing you up against a fence in Queens for 500 bucks." He auditioned for the role of a government official in "Contagion," the 2011 Steven Soderbergh flick. "Nothing fancy, but it was a guy with a name and he wore a suit and he had a nice little scene," he says. "They called me a week later and said, 'We want to cast you as Paramedic #2.' I said I'm not going to do that. I don't need to do that because I don't need the money from it and I've done that gig before, and I don't have to do it anymore."