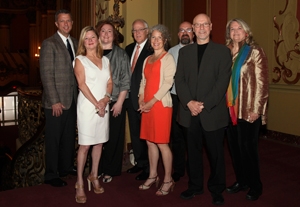 For actors in L.A. who aren't content to just work in the theater, living in one may soon be an option. The 12 movie theaters -- some call them palaces -- that line the South Broadway downtown thoroughfare long ago fell into disrepair, but they may be making a comeback. The city's namesake theater, the Los Angeles, played host to officials Tuesday announcing a major grant to help bring artists back to the area.
The funding is going to the Broadway Arts Center, a joint project between the city, the Actors Fund, CalArts, and ArtSpace. The project received a $470,000 grant from ArtPlace, a national endowment that funds "creative placemaking," which will go toward finding a site for the proposed mixed-use development.
The idea is to develop a building that contains a blackbox theater, art gallery, commercial space, and affordable housing for actors and artists in the Historic Broadway Corridor.
"If you have a cadre of artists living, working, sleeping, playing in downtown Los Angeles, the energy level is going to go really off the charts," Olga Garay-English, executive director of the city's department of cultural affairs, told Back Stage.
The Los Angeles Theater, whose French Baroque-style lobby was modeled on the Palace of Versailles' Hall of Mirrors, seats 2,000, which makes mounting a theater production there economically prohibitive. But Garay-English said there could be other ways to get actors back into the area's opulent theaters.
"Artists are really inventive. The idea is to have a gorilla workforce that will come in here and really take ownership of the programming of some of these venerable old theaters," she said. "The uses of these theaters is going to become much more evident as people start living here and looking for venues to do their work."
The affordable housing for actors, a major part of the project, is what attracted the Actors Fund, which provides financial support to members of the entertainment industry facing hardship. "Right now there is no other subsidized, affordable housing [in Los Angeles] for artists, specially for performing artists," said Scott Weiner, president of the Fund's housing development arm. "So we're really excited about doing this project."
The project is still four or five years away from completion. But when finished, it will be a major boost to theater companies looking for collaborative space, according to Tali Pressman, managing director of Cornerstone Theater Company. "We could use the center for rehearsals, and possibly also for performances. We may also hope to use the community that is living there to generate our own works. It's a major benefit to the city."