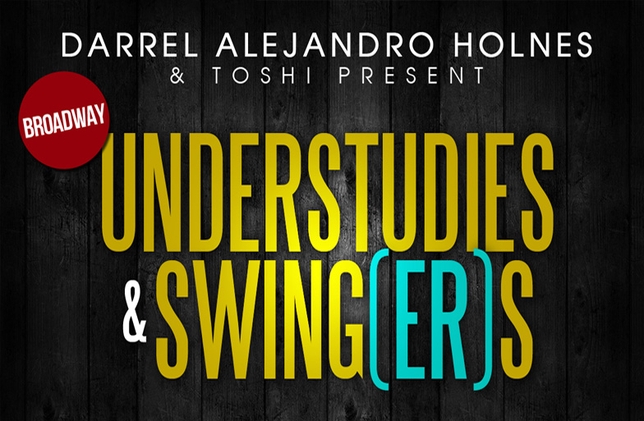 It's time for understudies and swings to stop singing their favorite songs in the shower and start singing them on stage. Robert "Toshi" Chan, general manager of the Flatiron Hotel and artistic director of Toshi's Living Room and Penthouse and Darrel Holnes created "Understudies and Swing(er)s," as a way to showcase the best unheard voices on Broadway.
"This is an opportunity for performers that are usually left or right of center to take center stage," said Holnes, the producer and host of "Understudies and Swing(er)s," a weekly performance series which kicks off on Monday, March 11 and takes place every Monday at Toshi's Living Room. Each concert in the series will feature a new set of artists.
For Toshi, who is widely known as a real estate mogul, party planner, hotel owner and also an actor, slowly building Toshi's Living Room wasn't just about business but also about supporting the arts.
The performance space, which is the lobby of the Flatiron, has developed into an artistic hub for music and comedy. "This is a place to discover and appreciate unknown talent," says Toshi. "Coming into Toshi's Living Room is like coming into my house and hearing Broadway quality performances."
It was soul music that brought Holnes into Toshi's for the first time. Holnes, who now works as a creative writing professor at Rutgers University, became a supporter of the venue, frequenting many events and forging a friendship with Toshi as they both share a kindred appreciation of the hopeful actor.
"I moved here with a lot of friends in musical theater who have been trying to get their moment in the spotlight," says Holnes. "I'm happy to create different opportunities…for everyone who comes to New York City and has a dream and really wants their moment on the stage."
Therefore, when Holnes approached Toshi with the idea of "Understudies and Swing(er)s," the artistic director was immediately onboard. "It's really a partnership formed out of, I think, a lot mutual respect and admiration," Holnes adds.
With each performance, there will be one headliner with about three to four supporting acts. Each headliner will sing a10-song cabaret, and each number will connect to a story about what the song means to the performer.
The first headliner of "Understudies and Swing(er)s" is Genny Lis Padilla from "In the Heights" and "Rent."
"I'm a huge Lin-Manuel Miranda fan," said Holnes. "He played opposite Padilla on the national tour of "In the Heights," which is where I heard about her and I made her acquaintance and asked if she'd be interested, and the rest is I suppose history in the making."
Supporting acts, which will generally sing 3-5 songs, can be guests of the headliner, or performers who have auditioned for a spot. (Performers who audition can also snag a headlining role.) Every Monday performance will be backed by a lively, small band.
"We have assembled a new band under the direction of David Engelhard," says Holnes. "The backing band, we're calling them The Swung-Swang Band."
All of the perks that Toshi and Holnes designed as part of this event have been rooted in championing the underdogs.
"It's also a great opportunity to showcase talent in front of future partners and collaborators," says Holnes. "Many of our [performers] in March and April have already started inviting their agents and managers and producers and songwriters that they would like to work with."
And more than that, it's about getting to do what a performer wants to do.
"You get to do eight shows a week, and as wonderful as the songs are, if you sing the same eight songs, you'll want a little bit of a variety," says Toshi. "So on their day off, when the theaters dark, they get to sing the songs that they love."
For more information about "Understudies and Swing(er)s," or to send in audition materials, e-mail darrelholnes@gmail.com.