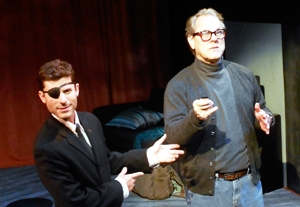 "Roadkill Confidential" has the kind of twisted humor that can polarize audiences; some might be turned off by its strangeness, but those who enjoy dark humor will be delighted by its tongue-in-cheek approach to brutality. Rising playwright Sheila Callaghan's smart, noirish script, with its poetic language and creepy characters, finds a perfect home with Son of Semele Ensemble. Its interpretation, the show's West Coast premiere, is amusing and appropriately weird. 
In the style of old detective film noir, the play centers on a nameless "FBI man" who serves as both character and narrator, breaking the fourth wall occasionally to let the audience in on the notes of his investigation. In this case, he is investigating secretive and controversial artist Trevor Pratt, who is creating a suspicious art piece using the bodies of animals. The animals are more than just roadkill; they may be infected with a contagion that is deadly to humans. If that is the case, the patriotic detective suspects Trevor may have crossed the line into the realm of bioterrorism. The play examines the "intersection of fear and art" in a way that is more funny than frightening.
In spite of its grim themes, the play has energy, and the actors make effective use of Callaghan's wry script, bringing to life her quirky characters. Alex Smith gets the biggest laughs as teenage son Randy. His highly physical explanation of his favorite video game, with the aid of well-timed sound effects by Joseph "Sloe" Slawinski, hilariously captures the awkwardness of a teenager's angst. Melina Bielefelt, as nosy neighbor Melanie, brings out her character's perky prudishness without becoming annoying. Her squeals and "Oh!"s are timed with comedic precision. Alexander Wells as Trevor's academic husband, William, is stiff but perhaps intentionally so. Daniel Getzoff hams up a few jokes that sound as if they're written to be performed deadpan, but for the most part he is perfectly neurotic as the sniveling, eye-patch-wearing FBI man.
Melissa Randell gives artist Trevor a creepily cool exterior that covers a maniacal core, but her character doesn't grow or change during the play. Though the characters of Trevor and the FBI man are well-formed, the relationship between them feels underdeveloped; tension and urgency are missing from their climactic scene together.
The edgy set by Adam Hunter and Barbara Kallir provides a suitable backdrop for this dark tale, and Adam Flemming's futuristic video projections set a dystopian tone. The letdown is the much built-up art piece (by Travis Novak); it is hidden for most of the show, and when the big reveal finally comes, the sculpture fails to shock or impress.
With the weak art piece and the anticlimactic scene between Trevor and the FBI man, the show's conclusion doesn't quite reach its exciting potential. But as with most detective stories, the thrill of the chase matters most, and in this case, the chase is wicked and fun.
Presented by and at Son of Semele, 3301 Beverly Blvd., L.A. June 8–July 1. Fri. and Sat., 8 p.m.; Sun., 5 p.m. (213) 351-3507 or www.sonofsemele.org.