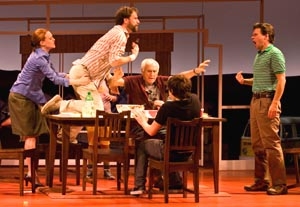 Sometimes ideas that sounded quite promising prove less so in execution. So goes this musical adaptation of the 2006 comedy road-trip film "Little Miss Sunshine," which never quite stalls but often sputters along the way.
The Oscar-pedigreed film suggested that it might make a fine stage tuner. Its bittersweet story boasts a heart that seemingly could easily sing, and the film includes quirky but amusing characters, the wackiest clan of misfits this side of "You Can't Take It With You."
Add to that the illustrious résumés of this musical's creative team: director-librettist James Lapine and songwriter William Finn ("The 25th Annual Putnam County Spelling Bee," "Falsettos"). Such a project couldn't miss. Or could it?
Finn's score is mostly unmelodic and Lapine's book—despite added scenes and plot points—feels like a reduction of the film's humor, charm, and poignancy rather than an enhancement. The designers have done a clever job of staging a story that mostly unfolds on a cross-country Volkswagen bus from Albuquerque to Redondo Beach.
The clever bus structure has breakaway parts, and the actors move the device with their feet. At other times, a miniature bus glides across the stage, adding a cute touch, and the use of road signs coming in and out to denote the journey's progress is effective. David Korins designed the functional minimalist set, enhanced by Ken Billington's smart lighting effects.
Unabashed uplift would be the wrong tone for this sometimes caustic story, but was it truly necessary to give crazy Grandpa (Dick Latessa) a crude ditty about "poontang… and getting some ass" to croon to emotionally disturbed teenager Dwayne (Taylor Trensch)?
The graceless song is off-putting rather than funny. Nor is it effective to have Dwayne break his long-held vow to not speak to anyone by blasting out a few tuneless bars of "song." Many of the boring recitative-styled portions of this score should be scrapped. When characters burst into song, it needs to feel more organic to the moment and mood.
The production's strongest element is the performance of Georgi James as the bespectacled cutie Olive, determined to win the titular child beauty pageant. James' charm, vulnerability, and confident belting are stellar, and she pulls off one of the most delightful child-star turns since Andrea McArdle tore up the stage in "Annie."
Malcolm Gets is also memorable as Olive's suicidal gay uncle, delivering affecting ballads. Hunter Foster and Jennifer Laura Thompson as Olive's high-strung parents give serviceable portrayals.
A chorus line of graduates from Olive's father's self-help motivational class forms a marginally successful linking device for the show, these performers also serving as scene changers. Christopher Gattelli's choreography is appealing but minimal.
Presented by and at La Jolla Playhouse, 2910 La Jolla Village Dr., La Jolla. Mar. 4–27. Tue.–Wed., 7:30 p.m.; Thu.–Fri., 8 p.m.; Sat., 2 & 8 p.m.; Sun., 2 & 7 p.m. (858) 550-1010.  www.lajollaplayhouse.org.