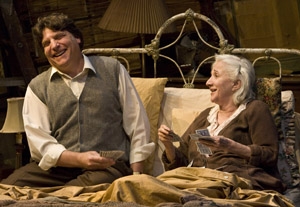 Writer-director Morris Panych's dark comedy, which premiered in Canada in 1995, brings to mind vintage films "Where's Poppa?" and "Throw Momma From the Train," each about an impatient relative's attempts to knock off an elderly woman. But there's more than farce on Panych's dramaturgic agenda in this funny and rueful two-hander about Kemp (Marco Barricelli), a self-hating middle-aged cynic, and Grace (Olympia Dukakis), the severely ailing aunt he hasn't heard from in 30 years. When Kemp suddenly receives an urgent plea from Grace, he quits his job and comes to her ramshackle home (ingeniously depicted in Ken MacDonald's skewed-angle set) to help ease her into the hereafter and then collect his inheritance. Yet the stubborn old woman keeps hanging on. What's a neurotic nephew to do?
The play starts out with rhythms befitting vaudeville skits, as each brief segment leads to a sardonic punch line (such as Kemp's "I think you've eaten enough; you'll never fit in the box"), followed by an abrupt blackout. The scenes, depicting the passage of a year, gradually become longer, and the relationship becomes richer. With gusto, the actors reprise their roles from last March's American Conservatory Theater production in San Francisco. Dukakis faces the challenge of having very little dialogue, as the piece is dominated by Kemp's monologues reflecting on his troubled upbringing and his curmudgeonly outlook. Not uttering a sound until near the end of the first act, Dukakis offers a virtual master class in listening and reacting, eliciting raucous laughter with the twitch of an eyebrow or an ironic expression. Avoiding the cliché of a doddering eccentric, the actor brings humanity and spark to the character in humorous and poignant moments alike. Barricelli is a skilled comedic actor who allows the compassionate side of the greedy grump Kemp to slowly emerge.
Alan Brodie and Robert Hahn's lighting beautifully supports the play's delicate shifting of moods, as does the original music by Meg Roe and Alessandro Juliani. A major plot twist shortly before the concluding scenes is uproarious yet quite poignant. Though the revelation makes perfect sense in retrospect, it's unlikely viewers will see it coming.
Presented by Center Theatre Group at the Mark Taper Forum, 135 N. Grand Ave., L.A. Nov. 6-Dec. 18.  Tue.-Fri., 8 p.m.; Sat., 2:30 & 8 p.m.; Sun., 1 & 6:30 p.m. (Dark Sun., 1 p.m., Nov. 13 & Dec. 11; Sat., 2:30 p.m., Nov. 19; Thu., 8 p.m., Nov. 24; Sun., 6:30 p.m., Dec. 4 & 18.) (213) 628-2772. www.centertheatregroup.org.