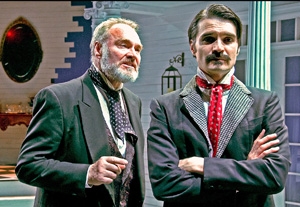 Lillian Hellman should have listened to Mary Poppins. "I never explain anything," proclaimed P.L. Travers' famous nanny. Nevertheless, in 1946 Hellman decided to write a prequel to her 1939 Broadway hit, "The Little Foxes," which introduced the rapacious Hubbard clan. "Another Part of the Forest" was intended to explain how this greedy, grasping Southern family got that way. The show was a middling hit (182 performances, versus 410 for "Foxes"), enough to generate a 1948 film version, but received decidedly mixed notices. Brooks Atkinson complained in The New York Times that "Forest" "went over the line, into old-fashioned melodrama." Alas, he was right. Though Peccadillo Theater Company gives it a game go, director Dan Wackerman and his largely solid if unspectacular cast can't compensate for Hellmann's schematically plotted, two-dimensional script.
The one indelible character in "Foxes" is 40-year-old matriarch Regina Giddens, née Hubbard, who will stop at nothing to acquire elaborate wealth and escape her dreary life in Bowden, Ala., for the livelier pleasures of Chicago. In "Forest," set in 1880, 20 years before "Foxes," Regina is a cheerfully amoral young woman whose father, self-educated prosperous merchant Marcus Hubbard, has a thoroughly unhealthy love for her. Regina is sleeping with Capt. John Bagtry, of the failing neighboring plantation Lionnet, a much older Civil War vet who doesn't love her and resists her schemes to get married. Regina's big brothers, the dimwitted Oscar and scheming Benjamin, are kept on a short leash by Marcus, who pays them stingily for their work as clerks in the family store. Oscar wants to marry Laurette, a cheerfully unrepentant whore, and move to New Orleans. Benjamin wants wealth and power and plots to marry his siblings off to money and/or position—Oscar to Bagtry's dithering sister, Birdie, and Regina to rich, upper-class Horace Giddens of Mobile—while simultaneously searching for ways to supplant his hated father. Oh, and then there's the deeply religious Lavinia Hubbard, the desperately unhappy wife and mother fraying wildly at the edges. Lavinia longs to flee the whole shebang in favor of setting up a school for "colored" children far away from her appalling family, in a desperate attempt to atone for her complicity in Marcus' treachery to the Confederate cause.
The most interesting character in "Forest" is Marcus, a cultured barbarian who reads Greek, writes music, and treats his wife and sons with unstinting cruelty. Sherman Howard impresses in the role, working hard to shade the monster with intriguing layers, coming up short only when Marcus faces destruction at the hands of Benjamin. Stephanie Wright Thompson matches him as Regina, doing her damndest to humanize the character's obvious manipulations, though there is only so much to be done with relentless petulance and avarice. Ben Curtis and Matthew Floyd Miller are effective if a shade too one-note as Oscar and Benjamin, while Kendall Rileigh and Elizabeth Norment are both touching but unsurprising as Birdie and Lavinia. Christopher Kelly makes what he can out of the clichéd Capt. Bagtry, but the overly contemporary Ryah Nixon errs on the side of musical comedy as Laurette.
Joseph Spirito's bleached-out, deconstructed set fails to match the naturalistic production, and by placing the patio and parlor side by side, insures a cramped staging that often takes place too far away from parts of the audience. Amy C. Bradshaw's well-observed period costumes help to compensate, as does Kate Ashton's discreet lighting.
I wish I could report that Peccadillo had uncovered a neglected gem. Still, anyone with an interest in Hellmann's work will want to take advantage of this rare opportunity to see "Another Part of the Forest."
Presented by the Peccadillo Theater Company at the Theatre at St. Clement's, 423 W. 46th St., NYC. June 7–July 11. Thu.–Sat., 8 p.m.; Sun., 3 p.m. (212) 352-3101, (866) 811-4111, www.theatermania.com, or www.thepeccadillo.com.
Casting by Michael Cassara.