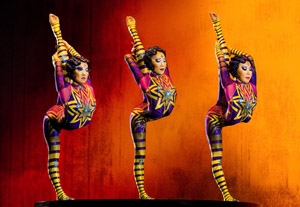 Writer-director David Shiner knows how to put on an old-fashioned show, and that's what he's done with "Banana Shpeel," the latest offering from
Cirque du Soleil
. Shiner is perhaps best known as a performer in Cirque's 1990 show "Nouvelle Expérience" and in "Fool Moon," his collaboration with fellow clown Bill Irwin. More recently, Shiner took the helm of the Cirque show "
Kooza
," which was performed in New York last year on Randall's Island. For his second piece with the Quebec troupe, he decided to do a show that, in his words, "tips its hat to vaudeville" while staying rooted in Cirque's "beloved dreamscape."
"Banana Shpeel" certainly does bits of both. As a framing device, it uses the vaudeville cliché of the undersized, short-tempered boss barking orders at his two dim assistants while his wacky secretary keeps the business running, with Danny Rutigliano as boss Marty Schmelky, Wayne Wilson and Daniel Passer as the assistants, and Shereen Hickman as the secretary, Margaret. Adding to the chaos are random clowns—a wannabe lothario (Claudio Carneiro), a flasher (Patrick de Valette), and a lost old man (Gordon White)—who gum up the works. Ongoing storylines involve Danny trying to get hotheaded Marty to calm down and a budding love story between Marty and Margaret.
Marty introduces every act as "the greatest thing I've ever seen." These include Cirque's usual collection of world-class jugglers, contortionists, and dancers—most of whom are impressive. But likely owing to Shiner's preference for clowning, the show really sings when the funny people are on stage. Rutigliano, Hickman, Wilson, Passer, Carneiro, de Valette, and White bring a real joy to their performances. But Carneiro steals the show from his first moment: Marty asks him, "What is your act?," and he answers with Pythonesque absurdity, "I impersonate ordinary people with knee problems."
As usual, "Banana Shpeel" features Cirque's combination of outrageous costuming (by Dominique Lemieux), great music (Simon Carpentier), and top-flight choreography (Jared Grimes). Shiner makes good use of his performers, though the show doesn't really get going until about halfway through the first act.
Yet something else is missing this time. Perhaps it's the transfer from the big tent to the ordinary stage, but "Banana Shpeel" misses the ingenious spectacle of previous Cirque shows. The clowns use the audience less, and the acrobats seem further removed. But no matter. Despite a couple of ribald allusions, the show is enjoyable fun for all ages.
Presented by Cirque du Soliel at the Beacon Theatre, 2124 Broadway at 74th St., NYC. May 19–June 27. Wed.–Sat, 8 p.m.; Wed, Sat., and Sun., 2 p.m.; Sun., 6 p.m. (866) 858-0008; www.ticketmaster.com.