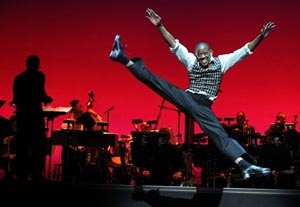 "Cotton Club Parade" is the kind of show that makes you remember how lucky you are to be a New Yorker. A combined production of Jazz at Lincoln Center and New York City Center's Encores!, this tribute to the famous Harlem nightclub re-creates its glory days in the 1920s, when Duke Ellington and his band reigned as a top attraction. A dazzling cast of 28 executes Warren Carlyle's dynamite direction and choreography with stunning style as Wynton Marsalis on his trumpet leads the superb Jazz at Lincoln Center Orchestra through what are mostly transcriptions of original arrangements. More than just a joyous musical revue, the evening is permeated with a sense of legacy, of hometown performers honoring a fabulous past while creating their own ecstatic present.
As the revue is perhaps the theatrical form hardest to get right, particular praise must go to conceiver Jack Viertel, also Encores! artistic director, who has devised a program that builds consistently as it flows effortlessly from number to number, never eddying or flagging, punctuated neatly by the occasional use of spoken text by the great Harlem Renaissance poet Langston Hughes. By the end of the opening number, a montage of city life presenting the full company set to Ellington's "Daybreak Express," we know exactly what the show wants to be and that we are in good hands.
There are far too many highlights to mention them all, but the evening locks into place with Brandon Victor Dixon's light-as-air rendition of "I've Got the World on a String" (Harold Arlen–Ted Koehler), backed by a corps of dancers, each bearing a single red helium-filled balloon, in one of Carlyle's most ingenious and ingratiating numbers of the night. It's immediately followed by the sensational Adriane Lenox's caustically funny "Women Be Wise" (Sippie Wallace), in which Lenox brings down the house as she warns the ladies not to brag about their men lest they lose them to another woman. Lenox scores again in the second half with Sidney Easton and Ethel Waters' "Go Back Where You Stayed Last Night," in which the singer disdainfully discards her occasional lover now that she has acquired a full-time man.
Everett Bradley sings as Jason E. Bernard, Christopher Broughton, Daniel J. Watts, Joseph Monroe Webb, and J.L. Williams gleefully execute Carlyle's tight unison moves in "Peckin' " (Harry James–Ben Pollack) to great effect, and Bradley impishly leads Monroe Kent III, T. Oliver Reid, and Christian Dante White through Ellington and the Mills Brothers' inspired vocal arrangement of "Diga Diga Doo" (Jimmy McHugh–Dorothy Fields). Karine Plantadit, who made such a splash last season in Twyla Tharp's "Come Fly Away," stands out in the charming "East St. Louis Toodle-oo" (Ellington–Bubber Miley), while Jeremiah "Showtyme" Haynes and Andrew "Dr.Ew" Carter mix contemporary locking, popping, and breaking with period moves in the delightful "Hottentot" (McHugh-Fields). Later on, Nicolette DePass brilliantly delivers Garth Fagan's fluid yet ferocious steps for "Black and Tan Fantasy" (Ellington-Miley), while Jared Grimes takes "Goin' Nuts" (Johnny Hodges) quite literally in a breathtaking self-devised tap routine.
Carmen Ruby Floyd is practically another instrument in the band as she sings a haunting "Creole Love Call" (Ellington), and Carla Cook also goes the band-singer route, evoking Ellington soloist Ivie Anderson in standards like "Stormy Weather" (Arlen-Koehler) and "I Can't Give You Anything but Love" (McHugh-Fields). And speaking of the band, which is on stage in Encores! fashion, it gets several opportunities to shine, including the highly satisfying and smartly positioned finale, "Rockin' in Rhythm" (Ellington–Irving Mills–Harry Carney).
Scenic consultant John Lee Beatty frames the proceedings with simple pieces—scrims, sparkly curtains, a plain backdrop, chandeliers—that Peter Kaczorowski lights with an array of emotion-enhancing colors and projections. Costume consultant Toni-Leslie James also contributes colorful work that evokes the period, and Scott Lehrer's sound is appealingly natural in the cavernous City Center auditorium, which has undergone a spectacular restoration that's almost alone worth the price of admission.
Much more than just an entertaining 90 minutes, "Cotton Club Parade" is a historical snapshot that reminds us of how the artists working there transformed American culture. It would make an excellent PBS broadcast, and it's much too good to vanish after only six performances. There are still four left, so don't miss it. 
Presented by New York City Center and Jazz at Lincoln Center as an Encores! Special Event
at New York City Center, 131 W. 55th St., NYC. Nov. 18–22. Mon. and Tue., 7 p.m.; Fri., 8 p.m.; Sat., 2 and 8 p.m.; Sun., 6:30 p.m. (212) 581-1212 or www.nycitycenter.org. Casting by Laura Stanczyk.