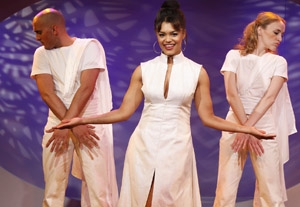 Do we really need another musical treatment of Adam and Eve? The world's first couple has already been charmingly profiled in a cute little one-act tuner, "The Diary of Adam and Eve," part of 1966's "The Apple Tree," by Sheldon Harnick, Jerry Bock, and Jerome Coopersmith. Derived from Mark Twain's story of the same name, this concise playlet gently satirizes the eternal push-pull of friction and romance between the sexes. The authors of "Falling for Eve" try for a broader scope by including an examination of innocence and worldliness, the ruminations of God on his creation, a subplot involving a pair of amorous angels, and a variation on the old tale of who bites into that forbidden fruit and who doesn't. The result is a mildly amusing sketch but nothing to get excited over. It's pleasant enough, but at 90 minutes it feels stretched, and the show fades from memory as soon as you leave the theater.
The book, by Joe DiPietro, who just won two Tonys for the book and lyrics of "Memphis," is based on David Howard's original play "Adam Alone" and portrays the Edenites and the angels as awestruck children under the guidance of a parental God, a role split between a male and a female actor, perhaps as a bow to political correctness. There are some genuinely sweet moments, but DiPietro too often strains for humor by placing contemporary slang in the mouths of these archetypal characters—one of the angels drops a "freakin' " into her dialogue, and Adam's first greeting to Eve is "How you doin'?," spoken as if he were a cast member of "Jersey Shore." The score, with lyrics by Howard and music by Bret Simmons, offers a handful of high spots—including "Good Things Are A-Comin'," a snappy list song of mankind's future achievements—but otherwise seldom rises to the level of memorable.
The six-member cast pours on the charm, and all display impressive vocal chops. Larry Raben's staging makes efficient use of Beowulf Boritt's simple revolving-platform set. But it feels as if all concerned are pushing too hard for the laughs and tears.
Still, there are a few bright spots to savor. The standout is Krystal Joy Brown's inquisitive Eve. This bubbly actor, who reminds me of LaChanze and Charlayne Woodard, strongly makes the transition from mindless child to seeker of knowledge to experienced voyager. Her passionate delivery of "Where Will I Sleep Tonight?" intensely conveys Eve's fear and uncertainty after being cast out of paradise. Jose Llana makes Adam a frisky puppy of a man-boy, struggling between obedience to God and the thirst to join Eve in her quest for wisdom and experience. Adam Kantor and Sasha Sloan share deity duties and play the role of heavenly father-mother as if they were Las Vegas lounge entertainers. But perhaps that's how they were directed. Jennifer Blood and Nehal Joshi infuse the angels with teenage yearning to shed their ethereal form and become human.
Presented by the York Theatre Company and 1113 Productions at the Theatre at St. Peter's, 619 Lexington Ave, NYC. July 15–Aug. 8. Tue., 7 p.m.; Wed.–Sat., 8 p.m.; Sat. and Sun., 2:30 p.m. (212) 935-5820 or www.yorktheatre.org. Casting by Michael Cassara.