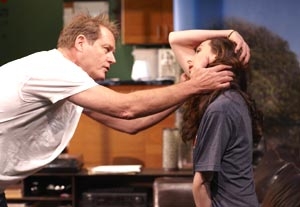 The title of Ellen Fairey's new play "Graceland," presented by Lincoln Center Theater's LCT3 program for new playwrights, directors, and designers, does not refer to Elvis Presley's mansion in Nashville but to a cemetery in Chicago. Fairey displays an appealingly dark sense of humor by setting much of her story in a such a location, as well as a keen eye for character development and relationships, but she settles for sitcom laughs a tad too often.
The play opens with a sister and brother in the titular graveyard for the funeral of their father, who committed suicide. In common with their late dad, both Sara and Sam have made horrible romantic choices and tend to drown their sorrow in recreational substances like booze or pot. The main action concerns Sara's desperate attempts to find a love connection, often resulting in chaos. First she goes home with Joe, a casual acquaintance of her father, then Joe's son, the precocious teenager Miles—who just happens to work at Graceland—hits on her. Meanwhile, Sam is devastated by the loss of his girlfriend Anna who left him months ago for his father—yeah, the one who later killed himself. In the wrong hands, this type of quirky plotting can come across as forced. Fairey does much to alleviate that feeling, by giving her dazed and confused characters strong, specific details and characteristics. But there are still too many comic coincidences which appear to have come obviously from the author rather developing naturally from the situation.
Fortunately, director Henry Wishcamper and his tight ensemble resist the temptation to broadly play the sitcom elements of the script. Marin Hinkle gives Sara a welcome wry edge while an equally caustic Matt McGrath keeps Sam from drowning in self-pity. Brian Kerwin has just the right light comic touch for Joe's fear of encroaching middle age and Polly Lee makes the most of the brief role of Anna.
Fairey has written Miles as way too mature for his years. At fifteen, he's smarter than all the others and his sage overview of their amorous mix-ups and the devastating blows life deals them all is just not plausible. Yet David Gelles Hurwitz combines that intelligence with a charming thirst for love and life that never veers into neediness.
For a work dealing with death, loss, and breakups, "Graceland" has a lot going for it. It would be a lot more satisfying if the author hadn't pushed for laughs quite so much.  
Presented by Lincoln Center Theater/LCT3 at the Duke on 42nd Street, 229 W. 42nd St., NYC. May 17–29. Mon.–Sat., 8 p.m.; Wed. and Sat., 2 p.m. (646) 223-3010 or www.lct3.org. Casting by Daniel Swee.