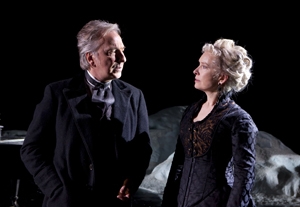 There's a reason why "John Gabriel Borkman," Henrik Ibsen's penultimate play, is rarely performed. Loaded with family melodrama and short on the blistering social criticism of earlier works such as "Ghosts" and "A Doll's House," the piece can feel like a 19th-century Norwegian version of "Dynasty" or "Desperate Housewives." Even in a production as exemplary as the Abbey Theatre's taut rendition, which features a muscular new English version of the script by Frank McGuinness and high-wattage performances from the stellar likes of Alan Rickman, Lindsay Duncan, and Fiona Shaw, there were audience giggles at Ibsen's plot excesses. Plus the play concludes with a dragged-out denouement in a blinding snowstorm. But director James Macdonald and his more-than-capable cast keep the soap operatics to a minimum, emphasizing the white-hot passions amid the frozen landscape.
The title character (Rickman) is an egotistical former bank manager who lost his position and was imprisoned for embezzlement—shades of Bernie Madoff. He spends his days in the upper half of his house plotting a spectacular comeback, while his embittered wife, Gunhild, broods below. The estranged couple lives off the largesse of Ella, Gunhild's sister, who was spared bankruptcy in the bank scandal due to her long-ago love affair with Borkman. One stormy night, all three battle for possession of the Borkman offspring, Erhart. Gunhild sees him as the potential savior of the disgraced family name, Ella wants his companionship before she expires of an unnamed disease, and John Gabriel envisions his son as a future business partner on the road back to glory. But Erhart has other ideas about his future, inspired by the bohemian Mrs. Wilton.
Ibsen does introduce large themes, such as the power of greed to wreck lives and the contrast between rampant materialism (represented by the senior Borkman) and pleasure pursued for its own sake (symbolized by Mrs. Wilton and Erhart). In addition, Borkman's finanicial shenanigans parallel the contemporary fiscal crisis, giving the evening a relevant resonance. But the ideas are too often overwhelmed by the plot-heavy story and some obvious symbolism: A sleigh carrying the younger generation off to a new life literally runs over a representative of the old order.
Fortunately, the cast commits to the material wholeheartedly. Rickman makes Borkman a wounded old wolf, still dangerous but tired after a lifetime of being a carnivore. Duncan keeps the dying Ella safely away from tragic diva territory, investing her with a steely will to live. Their scenes together recall the sexual sparks they struck when they co-starred in "Les Liaisons Dangereuses" and "Private Lives."
Shaw is unforgettable as the vengeful Gunhild. Biting off her words, she always seems to be on the verge of exploding. "People like us have no time to be happy," Gunhild spits out when confronted with the possibility of letting go of her wrongs. Like a skilled musician, Shaw modulates Gunhild's rage for maximum effect, letting off a scream here, pausing to push down another one there. The actor's physical life mirrors the character's inner turmoil. Shaw constantly places a hand on her side as if to contain Gunhild's monumental rage. It's a fascinatingly detailed performance, and Shaw is missed whenever she leaves the stage.
Cathy Belton is a delightfully smirking Mrs. Wilton, but Marty Rea is a whiny Erhart. John Kavanagh, Amy Molloy, and Joan Sheehy lend subtext to smaller roles. Tom Pye's icebound set and Ian Dickinson's eerie sound design create the proper chilly environment.
Presented by Brooklyn Academy of Music at BAM Harvey Theater, 651 Fulton St., Brooklyn, N.Y. Jan. 12–23. Tue.–Sat., 7:30 p.m.; Sat., 2 p.m.; Sun., 3 p.m. (718) 636-4100 or www.bam.org. Casting by Holly Ní Chiardha.