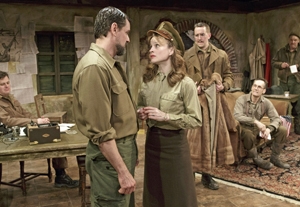 In service of its motto, "Lost plays found here," Mint Theater Company has turned up more than its share of first-rate work, sometimes even resuscitating the reputation of an unjustly forgotten playwright (such as the terrific Teresa Deevy). In the case of "Love Goes to Press," the sole theatrical venture by two famous female war correspondents, Martha Gellhorn and Virginia Cowles, what has been unearthed is merely a curiosity. This autobiographical comedy—a West End hit in 1946 but a four-performance Broadway flop in 1947—has historical value and is notable for its feminist perspective. It's just not a very good play.
Set in a makeshift press camp in the Italian countryside in 1944 as Allied troops are advancing on Germany, "Love Goes to Press" centers on the antics of Annabelle Jones (a fictionalized Gellhorn) and Jane Mason (a stand-in for Cowles) as they try to cover the action and wrestle with romantic entanglements. They are the only women in the press corps, something of which Major Philip Brooke-Jervaux, the British officer who runs the joint, heartily disapproves. That, however, doesn't stop him from falling for Jane. Annabelle must deal with the presence of her ex-husband, Joe Rogers (read Ernest Hemingway, to whom Gellhorn was married from 1940 to 1945), for whom she still has feelings. With Joe is the simpering British singing star Daphne Rutherford, his fiancée. Jane and Annabelle plan separate daring behind-the-lines missions while simultaneously pursuing and then retreating from their men. Will love trump career? Not bloody likely.
In Gellhorn's introduction to the 1995 published text, she admits with pride that she and Cowles knew nothing about playwriting and that the whole venture was motivated by the desire to make pots of money on a film sale. It shows in the ramshackle structure, shaky plotting, and unbelievable character motivations. In particular, the romance between Jane and the major isn't for a moment credible as dramatized in a quiet Act 2 closing scene that counterpoints their supposed romantic attraction with louder and louder mortar shell explosions. The authors probably thought it was funny, but director Jerry Ruiz pushes the contrast to farcical proportions, and it still just lies there.
Indeed, Ruiz never finds a consistent tone for this uncharacteristically uncertain Mint production, leaving some fine actors struggling. The best work is to be found in the smaller parts. Ned Noyes, as Corporal Cramp, Philip's underling and his servant in real life, is absolutely right as one of those genial, always supportive domestics with an unquestionable belief in king and country. As an American major who has taken a shine to Annabelle, Thomas Matthew Kelley is all open-faced, goodhearted can-do Yankee optimism. Especially notable is Margot White's narcissistic Daphne, who garners the lion's share of laughs as she cuts a heedlessly selfish swath through all the wartime privations.
As Annabelle and Jane, Heidi Armbruster and Angela Pierce work hard at swaggering feminine camaraderie but are undercut by their characters' too-often gerrymandered behavior. Rob Breckenridge, so good as the crass newspaper publisher in the Mint's production of Arnold Bennett's "What the Public Wants," is less successful with Joe. He seems to go out of his way to avoid invoking Hemingway while never exuding the magnetism the role requires. As Philip, Bradford Cover is appropriately stuffy and snappish but can't strike romantic sparks, and his English accent fades in and out.
The production team—set designer Steven C. Kemp, costume designer Andrea Varga, lighting designer Christian DeAngelis—provides authentic period detail and wartime atmosphere. And kudos to sound designer Jane Shaw's backdrop of recordings of popular songs of the era in what sounded to be English dance-band arrangements, which are generally much squarer than their American counterparts.
Despite the shortcomings, I'm glad to have had a chance to encounter "Love Goes to Press" for its value as an interesting artifact. Nevertheless, it's a good thing that Gellhorn and Cowles stuck to their day jobs.
Presented by and at Mint Theater Company, 311 W. 43rd St., 3rd floor, NYC. June 18–July 29. Tue.–Thu., 7 p.m.; Fri. and Sat., 8 p.m.; Sat. and Sun., 2 p.m. (No performance Tue., June 19; additional performance Wed., June 27, 2 p.m.) (212) 352-3101, (866) 811-4111, or www.theatermania.com. Casting by Amy Schechter.