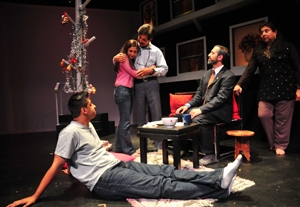 In a program note for "Rangoon," playwright Mayank Keshaviah cites a plethora of influences: Arthur Miller's "Death of a Salesman," a 2006 New York Times article on allegations of racial bias among federal prosecutors, and Mira Kamdar's novel "Motiba's Tattoos," as well as his own research on Burma's Indian community. So many sources of inspiration can sometimes result in a rich and heady meditation on a particular topic, but Keshaviah's treatment of the immigrant experience in post–Sept. 11 America is just jumbled and confusing as it tries to cover too much territory. Director Raul Aranas' slack production for Pan Asian Repertory Theatre doesn't help matters.
The basic template follows Miller's classic work a mite too closely. Proud Indian family man Dhiraj Patel works his fingers to the proverbial bone in the American South running a 7-Eleven store owned by his more successful cousin Chetan. Like Willy Loman, Dhiraj feels that his children don't appreciate his efforts to give them a share of the American dream, flirts with a much younger woman (a regular customer of the 7-Eleven), and is haunted by the ghost of a prosperous relative: his grandfather Motilal, a wealthy landowner forced to give up the family's property in Burma when the government fell. Dhiraj's family has the usual predictable complaints seen in immigrant clans in plays such as this. His wife, Seema, chafes at the restrictive role of dutiful spouse. Daughter Tejal rebels at traditional gender-specified duties and is dating a white boy at college. Teenage son Vinay speaks in African-American slang and is more interested in basketball than applying to Ivy League colleges.
The citing of "Salesman" is unfortunate. Willy is a wrecked man taken in by the false promises of materialism. Dhiraj suffers from similar delusions, but while Willy is a tragic figure, Dhiraj comes across as merely petty and stubborn. In addition, the grandfather's story is never made entirely clear, and his character is underdeveloped, even for a specter. Plus Keshaviah wraps up the play with a credulity-straining melodramatic ending that's silly rather than shattering.
Aranas fails to compensate for the script's glaring flaws and delivers a slow, weak staging. The acting is as uneven as the writing and direction. Faizul Khan's Dhiraj is just a grouch, recalling that annoying neighbor you want get away from as fast as possible, never showing us any of the character's more attractive qualities. Luckily, Sunita S. Mukhi delivers a more complex and shaded rendering of his long-suffering mate. Mukhi subtly imparts Seema's barely suppressed rage at Dhiraj for still carrying a torch for his first love and for not demonstrating his love of the couple's children. She also lights up the stage when Seema beams with pride as she watches her family enjoying her cooking. It's a silent, brief reaction that moves more than Keshaviah's two hours of dialogue.
Adeel Ahmed is too old to play Vinay, but he successfully limns the kid's conflict between anger at his dad and wanting to please him, as does Anita Sabherwal as his sister. James Rana sets the right condescending tone as Chetan. Krishen Mehta is unsteady as the imperious grandfather. Kylie Delre, Daniel Robert Sullivan, and Juan Luis Acevedo overplay smaller roles of 7-Eleven customers and a deliveryman.
Set designer Kaori Akazawa attempts to solve budgetary challenges with the aid of suggestive set pieces and Victor En Yu Tan's scene-setting lighting and, but the stage still manages to seem cramped and cluttered, much like the overstuffed script.
Presented by Pan Asian Repertory Theatre at the Harold Clurman Theatre, 410 W. 42nd St., NYC. May 31–June 17. Tue.–Sat., 7:30 p.m.; Sat. and Sun., 2:30 p.m. (212) 239-6200, (800) 432-7250, or www.telecharge.com.