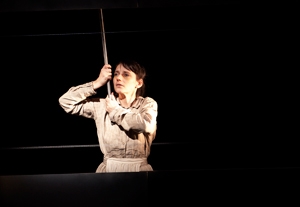 Alice Paul, a leader of the movement for women's suffrage in the U.S. in the early 20th century and a lifelong activist for women's rights, is the formidable heroine of "Take What Is Yours." Based on Paul's writings and archival documents, the script is by Erica Fae and Jill A. Samuels, a pair whose theatrical acumen matches the formidability of their subject. Samuels has directed with imaginative daring, and Fae embodies Paul in an impressive performance, cloaking an iron will with almost unflappable charm. The show centers on the harrowing time Paul and her followers spent in prison in 1917 for "obstructing traffic" after picketing the White House.
The production is the first to be mounted by Anecdota, a company co-founded by Fae and Samuels and "inspired by a mutual interest in visually poetic storytelling mined from historic, imagistic, and physical research," as the program tells us. "Take What Is Yours" admirably fulfills their inspiration. It's not so much a play in the conventional sense (or a history lesson, for that matter) as it is a theatrically poetic evocation of Paul's strength in pursuing her cause against brutal resistance and indignities. Almost all the action takes place behind a wall of shifting panels, which are used to reveal various amounts of playing space. The panels sometimes move in tightly around the actors, creating the feel of cinematic close-ups. Samuels is credited with scenic design concept, and Deb O is the set design consultant. Alison Brummer's chiaroscuro lighting and Kristin Worrall's eerie, nearly nonstop sound design add greatly to the ambience.
As Paul, Fae addresses the audience directly, but there are also major sections during which she is interrogated by an official, identified only as "the Man," who probes her motives and her sanity. Fae's credits include a solo play based on Joan of Arc, and there's more than a hint of St. Joan as Paul deflects her interrogator, played with a muted mix of compassion and menace by Wayne Maugans. The action further takes on a dreamlike atmosphere as the actors glide about the playing area—Fae on a bed and Maugans on a chair—in nearly continuous slow motion.
At the conclusion, Paul finally appears in front of the wall of panels and in bright light tells of the climactic session in Congress that led to giving women the vote. It's a refreshing moment after all the darkness and surreal stuff that has come before, some of which distracts from the storytelling. Nevertheless, there's so much imagination and talent at work here that it makes me look forward with anticipation to what Anecdota will be up to next.
Presented by and at 59E59 Theaters, 59 E. 59th St., NYC. May 9–27. Tue.–Thu., 7:15 p.m.; Fri., 8:15 p.m.; Sat., 2:15 and 8:15 p.m.; Sun., 3:15 p.m. (212) 279-4200 or www.ticketcentral.com.