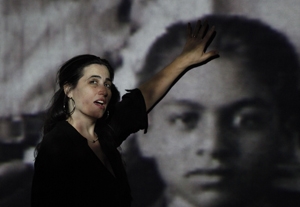 If sincerity were enough, "The Maria Project" would be a smash. But this homegrown solo reminiscence about discovering roots lacks theatricality, despite being performed on a stage. Nor is the story, even in its more gruesome aspects, particularly absorbing. What remains is a genial genealogy that means more to its developer-writer-performer, Marcella Goheen, than it probably will to spectators.
It all starts with a secret told to Goheen when she was 7 years old by her mother, Marcia. Stroking her mother's hair, she felt a bump and was told where it came from, with the admonition that it never be mentioned again. Other questions haunted Goheen: Why did her orphaned mother live in so many foster homes? What is the family's ethnic background? Irish? American-Indian? Spanish? Where are her relatives, specifically her mother's brother Frank? And what do they know?
Mom prefers that her daughter not ask so many questions. "People place too much emphasis in where they come from," she says. "We need to focus on where we are going, where we can go." Unfortunately, Goheen doesn't heed her advice and spends the next 75 intermissionless minutes relating her travels with Mom to various states on a cross-country odyssey, hoping to ferret out answers. In the process, she gets the full story of the secret's origins. Through photos, documents, and shaky home movies Goheen gradually unravels the details of her mother's cover-up. The answer, when it comes, has its lurid aspects but is unconnected to anything that will involve an audience. Rather, it sits there, fascinating mostly Goheen, who at the end sits cross-legged on the floor facing the images that represent her roots.
Director Larry Moss, a famous acting teacher who also staged the wonderful "The Syringa Tree," appreciates the piece's air of artlessness. On a bare playing area, backed by a large projection screen, Goheen moves right, left, center, and up. A trained actor, she imbues her narrative with force, though not much variety can be injected into it. But Goheen is a forceful performer, a model of concentration. Her commitment to her material is without doubt. If only said material were deep and relevant enough to reach beyond relatives.
Presented by Pure Projects, in association with Uncle Frank Productions, at 59E59 Theaters, 59 E. 59th St., NYC. March 11–April 1. Tue.–Thu., 7:15 p.m.; Fri. 8:15 p.m.; Sat., 2:15 and 8:15 p.m.; Sun., 3:15 and 7:15 p.m. (212) 279-4200 or www.ticketcentral.com.