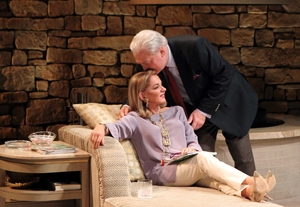 Jon Robin Baitz's latest play, "Other Desert Cities," is for anyone who has ever complained that they don't write 'em like that anymore. Richly dramatic and keenly observant, it's a hugely satisfying mixture of the political and the personal, grandly acted by a brilliant ensemble of five under Joe Mantello's faultless direction. That it's not on Broadway (for which it was initially announced) making pots of money is a deeply depressing comment on the state of our commercial theater. Drama lovers should make a beeline Off-Broadway to Lincoln Center's Mitzi E. Newhouse Theater.
The simple but fraught situation has once-promising novelist and political liberal Brooke Wyeth going home to Palm Springs for the first time in six years, to spend Christmas with her parents, Jewish Polly and WASP Lyman, members of Ronald Reagan's inner circle. Also gathered are Brooke's apolitical younger brother, Trip, the producer of a silly reality TV show, and Polly's embittered left-wing sister, Silda, a recovering alcoholic. After battling depression and a nervous breakdown, Brooke has produced a second book: a memoir of the circumstances surrounding her elder brother Henry's descent into drugs, radical politics, and suicide during the tail end of the Vietnam War. Brooke wants her family's blessing to publish. Knives are drawn, wagons are circled, and the family's very existence is put at risk.
That may sound melodramatic, but there's nothing wrong with melodrama when it's done as expertly as this. Baitz's characters are all beautifully drawn; for every expected cliché, there's a balancing personal quirk. The playwright charts a smart dramatic trajectory, beginning with light but pointed banter for these intelligent and witty people that recalls drawing-room comedy and generates hearty laughter, then gradually darkens as events unfold. The laughs start to sting, then they stick in the throat, finally disappearing as raw nerves become exposed.
The luxurious casting is a joy. Stockard Channing's tight, brittle Polly, in flight from her Jewishness, may be a bully, but she's also rigorously fair, admirably unsentimental, and fiercely protective of her children. Channing artfully juxtaposes the expected surface with shifting emotional depths. Stacy Keach's affable yet controlled Lyman is clearly the family peacekeeper, but when he's cornered by his wife and daughter, the sorrowful steel that emerges is immensely powerful. Thomas Sadoski's flippant Trip engagingly plays the clown to diffuse tensions, but there's always an intriguing disquiet lurking underneath, and when it finally bursts forth in Act 2, Sadoski rises to the occasion, delivering the play's moral with aching vulnerability. As Silda, Linda Lavin kibitzes from the sidelines with a stinging sharpness, exposing the personal toll that a lifetime of unforgiving moral judgment can exact while never neglecting the character's warmer qualities.
Head of the list is Elizabeth Marvel, as the catalytic Brooke. Marvel swings back and forth from enlightened artist to potential assassin with remarkable facility. As adept at the humor as she is at the drama, Marvel invests the character with deep reservoirs of feeling and is positively scary during Brooke and Polly's final, inevitable confrontation.
John Lee Beatty's handsome desert-villa set, circa the '60s, makes a wonderfully clean background for all these messy emotions. Kenneth Posner lights it smartly, subtly journeying from day into twilight and dark night, much like the play. David Zinn did the character-defining costumes (I particularly liked Brooke's tennis togs; Polly describes her as looking "like a refugee from a library in Kabul.")
Baitz's play couldn't be timelier. The thorny Wyeths are a microcosm of contemporary American society, riven by calcified ideological conflicts and nursed resentments that threaten to overwhelm human connection. Baitz is interested in how to break free. We should be too.
Presented by Lincoln Center Theater at the Mitzi E. Newhouse Theater, 150 W. 65th St., NYC. Jan. 13–Feb. 27. Tue.–Sat., 8 p.m.; Wed. and Sat., 2 p.m.; Sun., 3 p.m. (212) 239-6200, (800) 432-7250, or www.telecharge.com. Casting by Daniel Swee.