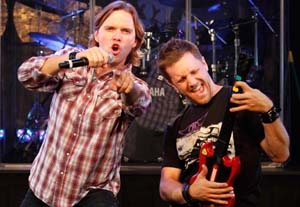 Consider "Power Balladz" to be the niche version of "Rock of Ages." Rather than strewing the stage with the corpses of '80s rock, creators Dan Nycklemoe, Mike Todaro, and Peter Rothstein have taken a more exclusionary approach, allowing only those songs they have deemed to be true power ballads. The book is negligible (the entire evening feels like an extended karaoke concert), and the performances barely exist, but I somehow found "Power Balladz" to be more entertaining than that other jukebox rock musical playing a few blocks away.
Credit the lack of interest on the creators' part in stringing together a plot. "Power Balladz" is just high school friends Dieter (Dieter Bierbrauer) and Scott (Scott Richard Foster) rocking out to a few of their favorite songs, eventually joined on stage by a surprise guest, their classmate Mary (Mary Mossberg), who just happens to be in the audience while in town for business. That she was prescient enough to pack a leather bustier and hot pants for her business trip is neither here nor there and fits in with the overall cheesy charm of the show.
All three boast stellar voices, but there's nothing particularly original happening. There are some attempts at validating the choice to devote an evening to the titular tunes, but mostly the audience has gathered to hear singers belt out the songs they love—and belt them out they do. The show's 90 minutes are littered with classic songs, from Heart's "Alone" to Guns N' Roses' "Paradise City." Gone are the multiple, tedious plots of "Rock of Ages," replaced by loud rock music, flashing lights, and some inventive staging from director Todaro.
For anyone who wants to relive a time when music was loud and the hair was big, "Power Balladz" (which also features a post-show karaoke fest with the band) is the champion.
Presented by Bruce Johnson, Mike Todaro, and Dan Nycklemoe at the Midtown Theater, 163 W. 46th St., NYC. Opened Aug. 19 for an open run. Mon. and Thu., 9 p.m.; Fri., 7 and 10 p.m.; Sat., 6 and 10 p.m. (Fri., Aug. 20, 9 p.m. only; no performance Sat., Aug. 21, 10 p.m.; additional performance Sun., Aug. 22, 9 p.m.) (212) 352-3101, (866) 811-4111, www.theatermania.com, or www.powerballadz.com. Casting by Adam Caldwell.