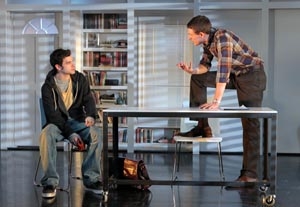 You don't need to read playwright Andrew Hinderaker's articulate interview in Roundabout Theatre Company's publication Upstage to know how sincere and well-spoken he is. A viewing of his new play "Suicide, Incorporated" makes that clear. Seriousness and intelligence, alas, aren't enough to guarantee theatrical success, particularly when you have such an unbelievable premise fueling your drama. If one-third of your six-character dramatis personae are ciphers existing principally for plot purposes, the chances of success become even more remote. Though well-intentioned, this latest offering from Roundabout Underground cannot transcend its flaws.
The play begins with 20-something Jason, a rather intense former author of Hallmark cards, applying for a job at alpha-male Scott's unnamed start-up business, which offers would-be suicides the opportunity to have their goodbye notes written by professionals. He gets the job, and it's not long before we realize that his goal is to prevent suicides, not aid them. Naturally, he has a very personal reason (spoiler alert): His younger brother, Tommy, of whom Jason became legal guardian at age 17 after the loss of their parents, killed himself. He's still around, though, a figment of Jason's active imagination.
Also in the mix are Scott's only other employee, the highly strung lapdog Perry, who is threatened by the new hire; depressed guy's guy Norm, who becomes Jason's client but resists the young man's attempts to get him to change his mind about ending it all; and a nameless police officer who only exists to prompt a crucial expositional flashback. Will Jason save Norm and square things with Tommy before Scott gets wise? Stay tuned.
The idea of a Suicide, Inc. business might work for a black comedy or a satire, but it doesn't fly in an earnest naturalistic drama. For one thing, its very existence, even in today's jaded, desensitized society, would surely be enough to prompt a media uproar and religious protestors. But there are more problems. Jason and Norm are the only two characters Hinderaker manages to flesh out, principally because we get the most information about them. Scott is a standard-issue macho would-be business magnate who enjoys humiliating people, Perry chief among them. But we never know why young and able Perry is so desperate to keep his job that he's willing to countenance such treatment. When (spoiler alert again) Perry kills himself and propels the plot forward, though, we suddenly understand why he is in the play. As to that officer, well, he barely exists at all, though an actor must be hired to play him.
Director Jonathan Berry gives the play a swift pace, though the elaborately choreographed back-and-forth set changes between the office and Jason's house become annoyingly repetitive. Gabriel Ebert, so good as Stanley in Kneehigh Theatre's "Brief Encounter" at Roundabout, displays impressive versatility as Jason; he's especially good at showing us a hollowness and an increasing desperation that this driven young man tries valiantly to suppress. Jake O'Connor is a boyishly insecure Tommy, though he's asked to do far too much hanging around and watching without being given anything to play. James McMenamin manages to find a surprising variety of shades in Norm's depression and does particularly well in the monologue that explains Norm's choice. Toby Leonard Moore is convincingly obnoxious as Scott, though he can't do much with Hinderaker's last-minute attempt to generate some sympathy for the character. Corey Hawkins and Mike DiSalvo, stuck with those ciphers Perry and Officer, are nevertheless thoroughly professional.
Hinderaker is interested in exploring the notion of American masculinity and how its rather rigid definition inevitably damages men's psychological well-being. It does, of course, but it's not a new idea, nor is it presented here with arresting insight, and so we tend to be way ahead of "Suicide, Incorporated" for most of its 80 minutes.
Presented by Roundabout Theatre Company as part of Roundabout Underground at the Black Box Theatre, 111 W. 46th St., NYC. Nov. 2–Dec. 23. Tue.–Sun., 7 p.m.; Sat. and Sun., 1:30 p.m. (No performances Sun., Nov. 13, and Thu., Nov. 24; additional performance Mon., Nov. 21, 7 p.m.) (212) 719-1300 or www.roundabouttheatre.org. Casting by Carrie Gardner.