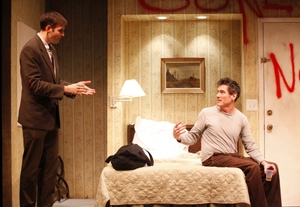 There is a lot to admire in Adam Rapp's "The Metal Children" now at the Vineyard Theatre: a powerful culture-war issue, meaty performances from a cast full of Off-Broadway veterans, and strong direction from the author. But Rapp weighs down his script with too much matter, and the foundation cracks. The play starts out with a gripping premise. Down-on-his-luck writer Tobin Falmouth visits a small town in the American heartland where his young-adult novel about vanishing pregnant teenagers has been banned by the local school board. This actually happened to Rapp when his book "The Buffalo Tree" was deemed off-limits by a Pennsylvania high school. The basic idea offers a plethora of possibilities to explore: censorship, the role of the artist as teller of uncomfortable truths, adolescent angst, abortion, elitist author versus religious fundamentalists—you could go on and on.
Rapp does flesh out these themes but veers into mystical territory when elements of Tobin's novel, also called "The Metal Children," begin manifesting themselves. He also gives Tobin a weighty backstory—his wife has just left him for a younger man, and he's spiraling into drug and alcohol dependence—and a bizarre encounter with a freakishly mature high school student named Vera, which I just didn't believe.
The tension between the supporters of the book and its opponents provides the strongest basis for credible conflict. Rapp wisely portrays the citizens bent on banning the book as multidimensional and articulate. The most effective scene is the debate in the school's auditorium which opens the second act. Each character, not a caricature among them, speaks in favor of or against the novel with conviction. Then the hungover Tobin delivers a heartfelt monologue about the events which inspired the novel and how he wasn't trying to make trouble for anyone, just tell a story. If the play had stayed on this level of emotional honesty, it would have been a devastating drama of clashing values. But there are too many weird flights of fancy, most of them involving Vera and a cult of girls who have adopted Tobin's book as their bible.  
Despite the excesses, "Metal Children" offers many moving moments and details. When Vera describes Tobin's crying in his sleep as sounding like "a toy train whistling in a basement," it captures his pain with stunning clarity. As Tobin, Billy Crudup takes what could have been a self-pitying bore and makes him a wounded little boy trying to grow up. The supporting cast is especially impressive, David Greenspan, Betsy Aidem, Guy Boyd, Susan Blommaert, Connor Barrett, Halley Wegryn Gross, Jessy Hodges, and Phoebe Strole creating fully realized cultural warriors on both sides of the divide.
Presented by and at the Vineyard Theatre, 108 E. 15th St., NYC. May 19–June 13. Tue., 7 p.m.; Wed.–Sat., 8 p.m.; Sat. and Sun., 3 p.m. (212) 353-0303 or www.vineyardtheatre.org. Casting by Henry Russell Bergstein.