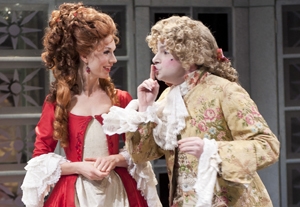 Because it is a satire on the shallow values of the court of Louis XIV, Molière's "The Misanthrope" is frequently presented with a maximum of style and a minimum of substance. Fortunately, director Joseph Hanreddy emphasizes the human relationships at the core of this classic comedy in his small-scale but effective production for the Pearl Theatre Company. The key connection is between Alceste, a brutally frank critic of the hypocritical fashions of the age, and Célimène, his polar opposite, a recent widow besotted with the glittering, gossipy world of Paris high society. Yet the two are in love, and their push-pull courtship crystallizes the conflict of the piece: Alceste's ultrahigh standards for human conduct versus Célimène's unrepentant enjoyment of trivial pleasures.
Usually portrayed solely as combatants in a contest of wits, much like Beatrice and Benedick in "Much Ado About Nothing," Alceste and Célimène here display palpable sexual chemistry. Sean McNall gives the title character—too often played as a dry sourpuss—more than a hint of charisma. It's believable that the flighty Célimène, as well as her cousin Eliante and the priggish Arsinoe, would fall for him. McNall handily avoids the trap of making Alceste a whiny crank and gives him the noble idealism Molière intended. Janie Brookshire is a dazzlingly attractive Célimène, especially as stunningly costumed by Sam Fleming and fitted with a glorious wig by Gerard Kelly. When the two characters get together, the sparks fly as fast and furiously as the rhyming bons mots in Richard Wilbur's verse translation. Hanreddy wisely lets Molière's wordplay reign, largely forgoing any accompanying broadly comic shtick.
Robin LeMon is a sweet and modest Eliante and beautifully delivers a funny and moving speech about lovers covering up their sweethearts' flaws. Shawn Fagan, as Eliante's suitor Philinte, has the difficult task of serving as sounding board for his friend and rival Alceste. Fagan manages to flesh out Philinte's yearnings and provide a voice of reason against Alceste's extremism. Matthew Amendt and Patrick Halley make an amusing pair of foppish dandies. Joey Parsons precisely captures Arsinoe's righteous hauteur and the carnal frustration that fuels it. Kern McFadden shades the pompous Oronte with dignity, and Dominic Cuskern makes the most of two servant roles.
Harry Feiner's set and Stephen Petrilli's lighting are simple yet elegant, entirely appropriate for this modest but meaty "Misanthrope."

Presented by the Pearl Theatre Company at New York City Center Stage II, 131 W. 55th St., NYC. Jan. 23–Feb. 20. Tue., Thu.–Sat., 7:30 p.m.; Wed. and Sun., 2:30 p.m. (Additional performance Thu., Jan. 27, 2:30 p.m.) (212) 581-1212 or www.nycitycenter.org.