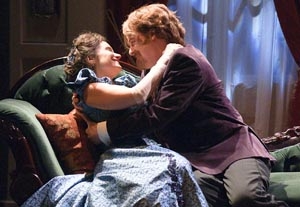 It's a mystery to me why "The Philanderer," George Bernard Shaw's second play, is performed so infrequently. This 1893 comedy is not as deep as some of the prolific playwright's later works, such as "Major Barbara," "Misalliance," and "Heartbreak House," and it often resorts to satire rather than the stimulating and complex intellectual debates found in those masterpieces. But it's an entertaining and ribald report from the battle of the sexes with plenty of sparkling Shavian wit.
Perhaps the lack of contemporary productions is due to the leading female role. Julia Craven is a "modern" woman of the late Victorian age who fiercely clings to a romantic attachment to Leonard Charteris, the title character, despite her professed progressive views on the independence of women and Leonard's repeated pleas to break off the relationship. Julia spends a lot of time throwing tantrums and screaming at the top of her lungs. In the wrong hands, this bad behavior can become tiresome and suck the energy out of the play. Fortunately, Gus Kaikkonen directs the Pearl Theatre Company's revival with a sure and steady hand, keeping Julia's high jinks from going too far into sitcom territory. He also skillfully balances the script's outlandishly comic aspects with its piercing observations on the man-woman question, which are as relevant today as they were when written.
Based on Shaw's offstage amorous adventures, the comedy focuses on Leonard's attempts to extricate himself from Julia's possessive clutches to fly into the more soothing embrace of Grace Tranfield, a genuinely liberated widow who doesn't resort to Julia's histrionic wiles. Complicating matters are Julia's father, Colonel Craven, a thoroughly conventional fellow who believes he is dying of a rare liver disease, and Grace's dad, Joseph Cuthbertson, a theater critic flummoxed by the bizarre notions of the younger generation.
After a blazing confrontation between the hero and the two women, stumbled onto by both fathers, all the parties meet again at the Ibsen Club, a gathering place for adherents to the Norwegian dramatist's revolutionary ideas. This affords Shaw plenty of opportunity to poke fun at the British reaction to Ibsen's radical tenets, which were coming into vogue at the time of the play owing to the scandalous London premiere of "A Doll's House." At the club, Colonel Craven's doctor, Percy Paramore, pursues Julia with Leonard's help, and Julia's sister, the male-attired Sylvia, joins in the fun.
Karron Graves keeps Julia just this side of excessive, combining alluring coquette with spoiled child. She knows how far to take the character's rages, running up to the cliff of melodrama without jumping over. Bradford Cover is a dryly self-effacing Leonard, and Rachel Botchan coolly conveys Grace's hard-won self-possession.
Resembling Nigel Bruce's harrumphing Dr. Watson from the old Sherlock Holmes films, Dan Daily is a delightfully stuffy and lovable Colonel Craven, while Dominic Cuskern jovially limns Cuthbertson's confusion. Chris Mixon gets considerable comic mileage out of Paramore's cluelessness about women. Sylvia is the only character who is more a personification of a social attitude than a flesh-and-blood figure, but Shalita Grant does much to add a third dimension to her.
Jo Winiarski's flexible set and Sam Fleming's charming costumes create just the right period atmosphere for this fine "Philanderer."
Presented by the Pearl Theatre Company at New York City Center Stage II, 131 W. 55th St., NYC. Jan. 22–Feb. 19. Tue., Thu.–Sat., 7:30 p.m.; Wed., Sat., and Sun., 2:30 p.m. (212) 581-1212 or www.nycitycenter.org.