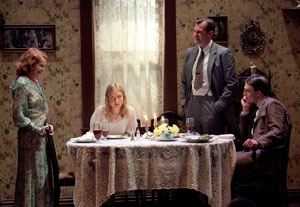 "The Pretty Trap" is being touted as "Tennessee Williams' one-act version of 'The Glass Menagerie,' " but that is at best only technically true. It's really a kernel, a sketch in which Williams first begins to explore the characters, themes, and architecture of his breakthrough play. I doubt that the great playwright would have wanted to see it staged after having arrived at his final result, and director Antony Marsellis' unimaginative production only reinforces that doubt. Williams' centenary is being used by Cause Célèbre as the pretext for trotting out this "long-buried" piece, but it seems more an act of exploitation than celebration.
In this dramatization of the late-1930s night in the St. Louis household of the Wingfields when son Tom brings home co-worker Jim Delaney (Williams would change it later to O'Connor) to serve as a possible romantic interest for his shy sister, Laura, and thus please his pestering mother, Amanda, the bones of that fateful evening are in place but as yet covered with very little flesh. The tone is lighter, but it's quite a stretch to deem this a comedy, even with its abrupt and unconvincing happy ending. There are probably more laughs in "Menagerie."
Tom is here a device and a cipher, something Loren Dunn hasn't figured out a way to overcome. Laura, not yet afflicted with a limp, is too strong-willed and self-possessed to be so obsessively shy, and Nisi Sturgis finds no way to reconcile the character's contradictions while skirting caricature. Jim already has his charm in place (after all, this is his only scene in either work), and Robert Eli makes good use of it, but Eli can't negotiate the forced leap to full romantic interest. Amanda has little but faded-Southern-belle attitudes to differentiate her from the stock worried mother, and Katharine Houghton's effortful performance, full of conscious choices that feel awfully imposed, doesn't elevate the character beyond her limitations.
The physical production—set by Ray Klausen, lighting and sound by Bernie Dove, costumes by David Toser—is recognizable as the by-now-famous Wingfield apartment, but it mirrors the lack of depth in the writing and so seems strangely antiseptic. Indeed, one thing "The Pretty Trap" makes crystal clear is that great theater needs high stakes, and nearly all of Williams' subsequent work on the script was in one way or another an attempt to raise them.
Clocking in at a scant 40 minutes, this is hardly a full evening's entertainment, and at $66.25 a ticket, audience members end up paying $1.65 per minute for it. As the text is unpublished and unavailable, that makes "The Pretty Trap" strictly for Williams scholars or completists.

Presented by Cause Célèbre at the Acorn Theatre, 410 W. 42nd St., NYC. Aug. 3–21. Schedule varies. (212) 392-6200, (800) 432-7250, or www.telecharge.com.