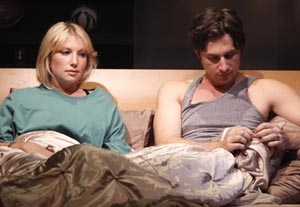 Second Stage Theatre seems to be out to corner the market on emptiness. Hot on the heels of its uptown production of the vacant but flashy "Bachelorette," we get Paul Weitz's schematic, wafer-thin "Trust." You'd think a play featuring Sutton Foster as a professional dominatrix would at least keep your mind off the grocery list. Unfortunately, you'd be wrong.
"Trust" examines the relationships of two 30-something couples and what happens when their lives intersect. Harry, a computer geek and dot-com multimillionaire who now runs a charitable foundation, and Aleeza, an alienated artist who no longer paints, are unhappily ensconced in a sexually dysfunctional marriage. Morton, a macho con man who avoids steady employment, and Prudence, whose nom de dom is Mistress Carol and whose job pays the bills, live together in sexually combustible misery. When Harry shows up for a session with Mistress Carol, he recognizes Prudence: They went to high school together, where he yearned for her from afar. Harry pursues her outside of work. She discovers his net worth, which she lets slip to Morton, who decides (unbeknownst to her) to blackmail Harry by threatening to tell his wife where he went. Harry, however, is far from the pushover Morton thinks he is. Ultimately, inevitably, the couples split and recombine, no doubt to further misery after the curtain falls.
It's clear we're in trouble from the get-go, as Harry's initial S&M encounter is played for cute, jokey laughs. Anyone sporting Harry's cavalier, whimsical attitude about what he's looking to experience would never be in a dungeon in the first place (and Weitz's late-in-the-play attempt to justify the choice is unpersuasive). Zach Braff pours on the geeky charm, but Harry is more a collection of tics than a character, despite an unconvincing backstory involving father issues. As Prudence, Foster runs the gamut of emotions from surly to intentionally surly, depending on whether or not the character is operating in a professional capacity. Ari Graynor sprays passive-aggressive anger like buckshot as Aleeza, but there's little she can do with the one-note writing or the unbelievable but entirely predictable metamorphosis Weitz concocts for the role. We've seen Bobby Cannavale play this part before, but he does it well, and his final scene is the only one in the entire play in which genuine emotion glimmers forth.
If there are hidden depths to this tiresome quartet, director Peter DuBois leaves them wholly unearthed, but he does see to a sleek production. Set designer Alexander Dodge fills his mottled gold-and-black environment with sliding modern furniture and shiny S&M accoutrements, lit by David Weiner with an appropriately urban artificiality, which softens when the locale switches to Harry's Hawaiian beach house. Emilio Sosa's contemporary costumes are nicely understated, except for the leather working togs, in which both Foster and Graynor look fearsome and fetching. The pop songs that punctuate scenes in M.L. Dogg's sound design are as banal as the play.
More than anything else, "Trust" seems to be a cri de coeur from Hollywood hit-maker Weitz about the soul-deadening properties of suddenly acquiring great wealth. All I can say is write me the check. I'll take my chances.
Presented by and at Second Stage Theatre, 305 W. 43rd St., NYC. Aug. 12–Sept. 12. Schedule varies. (212) 246-4422 or www.2st.com. Casting by MelCap Casting.